Content last reviewed: April 2017
Population overview Central Bedfordshire
Central Bedfordshire is a mainly rural location in the East of England and is considered to be a highly desirable place to both live and work. Much of the area has either a suburban or rural feel, with picturesque villages, beautiful hamlets and historic market towns. The largest towns are Leighton Linslade, Dunstable, Biggleswade, Houghton Regis, Flitwick and Sandy.
Central Bedfordshire covers some 716 square kilometres from Leighton Linslade and Dunstable in the west to Sandy, Biggleswade and Stotfold in the east. Out of the 56 unitary councils in England, Central Bedfordshire is the 11th largest by area and the 15th largest by population size (2015). In 2015, 274,000 people lived in Central Bedfordshire, resulting in a population density of 383 people per square kilometre. Central Bedfordshire is 'largely rural', with 58% of residents living in areas that were classified as rural in the 2011 Census.
Population estimates
The population of Central Bedfordshire was 274,000 in 2015 (1). This was an increase of approximately 40,000 (17.1%) since the 2001 Census. The chart below highlights the change in population in Central Bedfordshire since 2001.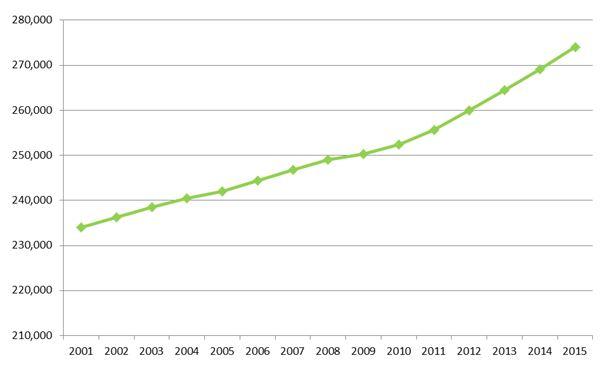 Central Bedfordshire Mid Year Population Estimates, 2001-2015. Source: Office for National Statistics, Mid-Year Population Estimates, 2001-2015
Last updated Tuesday, 25th April 2017