Content last reviewed: October 2017
Introduction

'Child sexual exploitation is a form of child sexual abuse. It occurs where an individual or group takes advantage of an imbalance of power to coerce, manipulate or deceive a child or young person under the age of 18 into sexual activity (a) in exchange for something the victim needs or wants, and/or (b) for the financial advantage or increased status of the perpetrator or facilitator. The victim may have been sexually exploited even if the sexual activity appears consensual. Child sexual exploitation does not always involve physical contact; it can also occur through the use of technology' (1).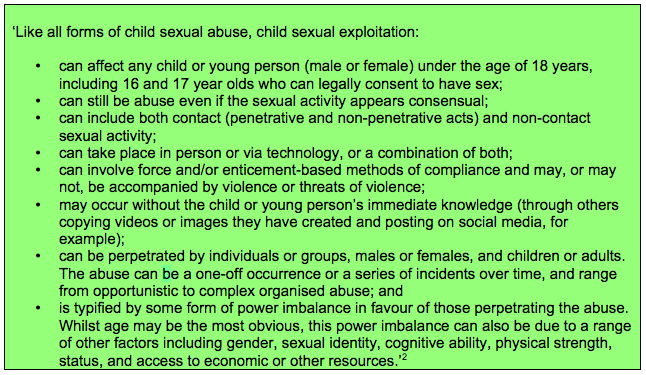 Locally, strategic partnerships work together across the county to tackle child sexual exploitation. This includes 3 local authorities (Central Bedfordshire, Bedford Borough, and Luton Borough Councils), Bedfordshire Police and health partners (including Bedfordshire Clinical Commissioning Group). This ensures that information is shared, and intelligence gathered to keep children safe.
In addition, Central Bedfordshire Safeguarding Children Board has a governing role in ensuring key partners work together effectively to safeguard children and to promote their welfare. The Board has identified priorities for 2017-19 which include work to tackle child sexual exploitation.
Reference
(1) Department for Education Child Sexual Exploitation: definition and guide for practitioners 16 February 2017.
Last updated Thursday, 12th October 2017