Purpose of Central Bedfordshire's JSNA executive summary
The intelligence gathered in producing the JSNA is used to support the identification of local health and wellbeing priorities, inform commissioning to improve health and wellbeing, reduce inequalities and highlight areas for focus by commissioners.
This summary document is an outline of the refreshed JSNA in 2016/17, with commentary on existing and future needs, trends and the potential implications of changing needs.
In Central Bedfordshire the JSNA aims to:
Identify and describe the issues that impact on the health and wellbeing of Central Bedfordshire residents and how these might change in future;
Identify who is affected by particular health issues, including which population groups are disproportionately affected.
Put into context how Central Bedfordshire's compares with other areas.
Provide 'areas of focus' to address specific health and wellbeing issues.
This executive summary is a document of Central Bedfordshire's Health & Wellbeing Board. Consequently, the Board will expect progress to be made against these areas of focus.
Central Bedfordshire's JSNA executive summary approach
Central Bedfordshire's JSNA is structured on a life course model, describing the health and wellbeing experiences of our residents during pregnancy, early years, from children and young people, through to adults and older people.
The life course approach is based on the understanding, as the Marmot Review into health inequalities described that:
"Disadvantage starts before birth and accumulates throughout life. Action to reduce health inequalities must start before birth and be followed through the life of the child. Only then can the close links between early disadvantage and poor outcomes throughout life be broken"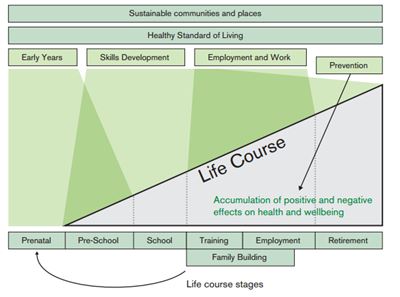 Figure 1: Areas of action across the life course Source: Marmot Review 2010: Fair Society, Healthy Lives
Common themes:
There are a number of common themes which have emerged from the JSNA:
The need to increase healthy life expectancy and promote independence by increasingly 'mainstreaming prevention'. This is important to both local residents and to the local health and care system that will need to meet rising demand if healthy life expectancy does not improve.
The need to reduce inequalities and disadvantage which can start from birth – so giving every child the best start in life is essential.
The need to give mental and physical health parity – there is no health without mental health.
The need to be ambitious – whilst outcomes in Central Bedfordshire appear better than average – they should be as it is a relatively affluent area – so we should aim to be among the best.
To gain a full picture of the need, the executive summary should be read in full.
Last updated Thursday, 27th July 2017