Assessment and rehabilitation
The Urgent Homecare and Falls Response service (UHFRS) operates 24 hours, 7 days a week and responds to 999 calls for people that have fallen within their home, including residential care, but are medically stable. They undertake an assessment, provide equipment and ensure the persons' social care needs are met. If required, the team will refer clients to specialist services and support.
Falls Support
Provides individually tailored support in the customer's home following a fall, including confidence building, guidance and training, provision of equipment (e.g. a walking frame or bathboard, etc), signposting or referral to other agencies such as Physiotherapy, Occupational Therapy, Chiropody or Assistive Technology.
Falls referrals are accepted only from the East of England Ambulance Trust.
Urgent Homecare
Provides support so people can remain independent at home e.g. help with personal care, including washing, bathing and dressing. Urgent Homecare can be provided for up to 72 hours whilst any ongoing care arrangements are put in place.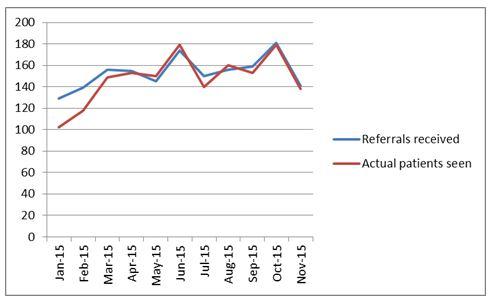 First response activity Jan 2015 - Nov 2015, Source: Bedfordshire and Luton Falls and Fracture Prevention Steering Group Data pack, 2014
Referrals to the 1st Response Service have continued to increase during 2015. The service typically now receives in excess of 150 referrals each month
All clients referred to the service are contacted. However, not all of them will receive support from the team. This is primarily because they decline the invitation or are subsequently admitted to hospital. The team will visit clients upon discharge from accident and emergency if required. The team offer advice over the phone if a visit is declined and make the social work teams aware of those customers that have a high number of repeated referrals.
The provision of information, advice and equipment was the primary intervention provided by the team during this period, followed by referrals to Occupational Therapy for larger pieces of equipment or adaptations, and also referrals for physiotherapy and Telecare equipment
Rapid Intervention Service
Rapid Intervention Service, SEPT Community Health Services Bedfordshire, assesses and organises nursing and social care for patients with acute conditions, including falls, who would otherwise be admitted to hospital.
The Falls Register
The Falls Register has been developed by the East of England Ambulance Service across the Eastern region. It captures falls which the ambulance service have been involved with. It is anticipated that all service teams dealing in falls will eventually be able to populate the register database. Currently, with their consent, people who have fallen and been attended to by the ambulance service are entered onto the falls register. They are contacted by the Rapid Intervention Service (see above) who arranges further health and/or social care support, including equipment, if required. During the period July 2011 and November 2011, 114 (9.5%) of the 1194 cases registered* were from Bedfordshire (data is not available on a local authority basis).
Falls Care Bundle, developed by Bedford Hospital NHS Trust
The Falls Care Bundle is a structured way of improving the processes of care and patient outcomes following a fall. The focus is on preventing all avoidable falls with a focus on four stages from assessment to rehabilitation:
Assessment
Action plan
Implementation of control measures
Rehabilitation
Practice Matrons
Practice Matrons in the Chiltern Vale Locality are aligned to GP Practices and care homes (residential and nursing).
Falls assessments and subsequent interventions form part of the Practice Matrons' role
Rehabilitation and Reablement Service, provided by SEPT Community Health Services Bedfordshire
This service provides holistic assessment, advice and treatment. The team supports people to remain in their own environment following illness, injury or disability.
Last updated Friday, 22nd April 2016