Current programmes and pathways
The Warm Homes Healthy People programme in 2012/13, part of a nationally funded programme to reduce excess winter deaths, offered advice, practical assistance and financial assistance to people living in private housing who were vulnerable to the cold. The programme team worked with local voluntary organisations to promote the service and obtain referrals. The resources provided included practical assistance such as funding 'hot boxes' through Age UK, blankets and soup through Bedfordshire Rural Communities Charity and a daily drop-in service for food and warmth through LHSS. A total of 833 people were reached. Feedback from service users and the volunteer staff included the following quotes: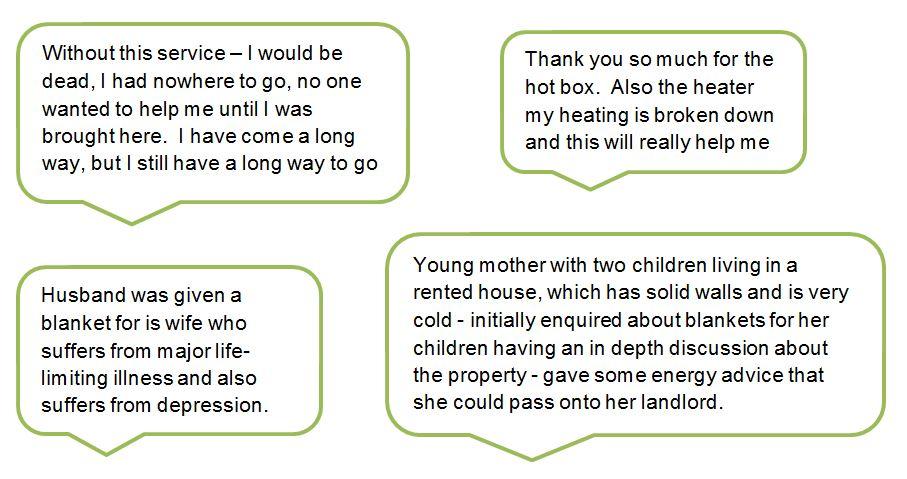 Service user feedback from the Warm Homes Healthy People programme
Unfortunately the central Warm Homes Healthy People funding was not renewed in 2013/14. Central Bedfordshire Council has continued to offer free energy surveys through the private sector housing team and training on fuel poverty for frontline health and social care professionals out of existing budgets. The environmental health team also continues to provide advice and support for private housing tenants who are living in homes with category 1 hazards (which include cold and damp). A member of staff will be seconded for 6 months starting in late March to conduct a strategic review in preparation for the winter season 2014/15; this post is being funded from the public health budget.
The government leaflet Keep Warm Keep Well and the Council leaflet Looking after yourself in cold weather are being used to provide general advice on keeping warm at home and outside, staying healthy and eligibility for flu vaccination.
Bedfordshire Rural Communities Charity and Central Bedfordshire Council have been working to promote and establish oil-buying schemes for residents in rural areas, to reduce fuel bills by negotiating preferential rates with oil companies for buying in bulk.
The Home Energy Conservation Act 2013 (HECA) requires Central Bedfordshire Council to improve the energy efficiency of all residential accommodation in its area. The Council has laid out its plan to address this requirement in its HECA report 2013-15, available on the Council website. The plan is very comprehensive but progress against it has been affected by the current climate of stretched resources.
In primary care the Quality and Outcomes Framework incentivises many aspects of good clinical care which would contribute to reducing the susceptibility of people with long-term conditions to cold temperatures or seasonal viruses. The focus is on optimisation of treatment for secondary prevention, for example the percentage of patients with a history of myocardial infarction currently treated with an ACE inhibitor (or ARB if ACE intolerant), aspirin or an alternative anti-platelet therapy, beta-blocker and statin.
Vaccination against seasonal flu is available each year, free on the NHS, for several eligible groups of people (those who are at highest risk of severe illness and death if they were to contract flu):
Everyone aged 65 or over
People of any age with certain long-term conditions, including heart disease, lung disease and diabetes
Pregnant women
Children aged 2 or 3 years old
People who receive carers' allowance and anyone who is the main carer for an older or disabled person
The target for vaccine coverage set by the Department of Health in 2012/13 was 75% for each eligible group. Table 6.1 shows the overall vaccination coverage in the 2013/14 season.
Eligible group
Eligible population
Number vaccinated
% coverage
Number not vaccinated
Eligible populations for flu vaccination and vaccine coverage, Central Bedfordshire, 2013-14
Aged 65 years and older
48258
35802
74.2%
12456
Under 65 years old but at risk, due to long-term condition
27721
14232
51.3%
13489
Pregnant women
2599
1364
52.5%
1235
Children aged 2 and 3 years not already in the at-risk group

3779 aged 2
3787 aged 3


2140 aged 2
1849 aged 3

56.6%
48.6%
1639
1948
Carers (formal and informal)
1950
913
46.8%
1037
Total
88733
56300
63.9%
31804
Coverage varies substantially between general practices, from 53.6% to 75.8% (figure 6.1 below). Only two practices achieved the target for overall uptake in 2013/14. There is no significant relationship between the total level of uptake achieved and the deprivation score of each practice (R2=0.0061), but subgroup analysis may be useful.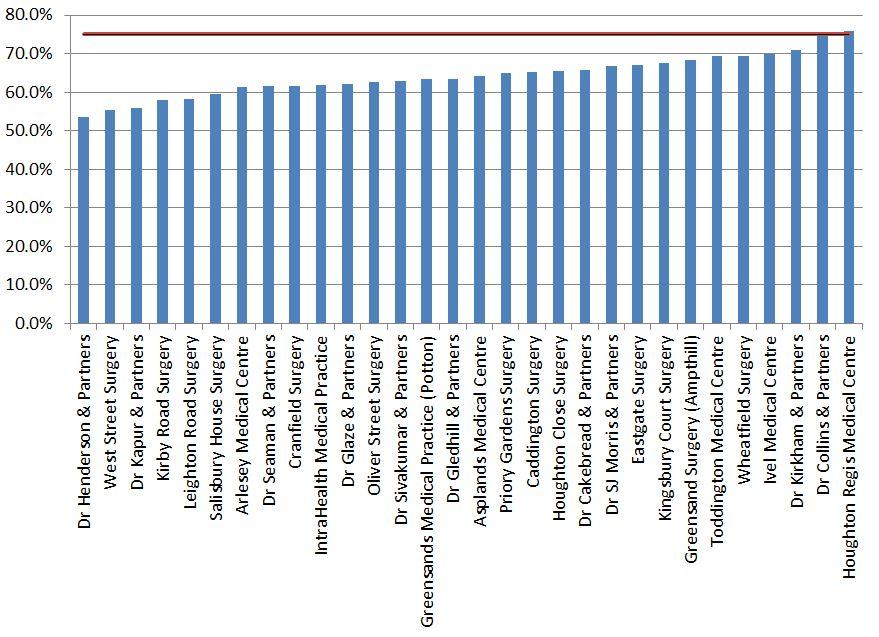 6.1 Total seasonal flu vaccine uptake by general practice Central Bedfordshire 2013/14 against national target (red line).
Vaccination against pneumococcal pneumonia is also offered to people at increased risk; this helps protect against flu turning into pneumonia. Eligible groups include adults and children with long-term conditions and all those aged 65 years or older. Coverage is only monitored for over-65s, for whom the vaccine should be given once only and does not require repeat doses. There were over forty-four thousand Central Bedfordshire residents in that age group in 2013/14, of whom 30,716 have been vaccinated (70%).
Last updated Tuesday, 12th July 2016