Facts, figures and trends
Over the last twenty years, the number of excess winter deaths in Central Bedfordshire has varied between 30 and 200 excess deaths each year (figure 1), which corresponds to between 5% and 33% more than the average over the rest of the year (figure 2). The Office of National Statistics, which publishes the figures, acknowledges that because the numbers involved are relatively small (statistically speaking), they are subject to random fluctuation and there is no consistent pattern across local authorities in different areas. The average is approximately 100 extra deaths each winter (around 17% more than the rest of the year) with no evidence of change in the trend over time.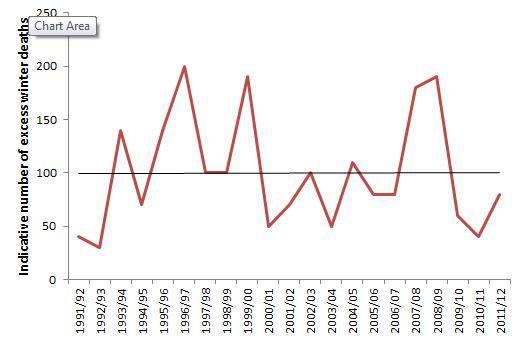 Figure 1: Pattern of excess winter deaths in Central Bedfordshire 1991 - 2012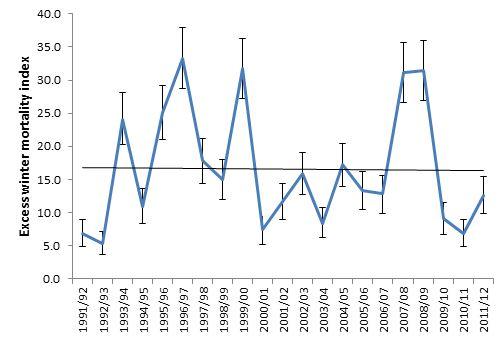 Figure 2: Excessive winter mortality index
More useful than looking at the total figures is looking at the breakdown by age group and the causative conditions. The West Midlands Public Health Observatory published an excess winter deaths atlas until 2011. It provides data by age group and cause of death at local authority level combined for 2004 to 2011.
Most excess winter deaths in Central Bedfordshire occur in the 65-84 year age group, but people aged 85 years and over are most disproportionately affected (table 1). Given that the over 65 population of Central Bedfordshire is expected to increase by 87% between 2010 and 2031 (1), it is reasonable to expect that the number of excess winter deaths will also increase substantially if action is not taken to address the root causes.
| Age group | Total number of excess winter deaths | Excess winter mortality index |
| --- | --- | --- |
| Aged under 65 | 81 | 10.2% |
| Aged 65-84 | 384 | 18.4% |
| Aged 85 or over | 269 | 19.4% |
| All ages | 732 | 17.2% |
Source: West Midlands Public Health Observatory Excess Winter Deaths Atlas
Approximately a third of excess winter deaths between 2004 and 2011 were caused by circulatory diseases and another third by respiratory diseases (table 2). The excess winter mortality indices clearly show that while circulatory deaths are certainly more common in winter than at other times of year, it is respiratory illnesses in which the seasonal peak is most pronounced. Almost 50% more people die of respiratory infections or from decompensation of their existing lung disease in the winter months.
| Underlying cause of death | Number of excess winter deaths | Excess winter mortality index |
| --- | --- | --- |
| All circulatory deaths | 233 | 16.8% |
| Coronary heart disease | 169 | 25.4% |
| Stroke | 40 | 11.8% |
| All respiratory deaths | 257 | 49.1% |
| Influenza and pneumonia | 94 | 48.8% |
| Chronic lung disease | 95 | 46.0% |
It is also useful to consider where the people live who are most affected. Figure 3.2 shows the geographical distribution of excess winter mortality and figure 3.3 provides deprivation maps for comparison. It is difficult to characterise a pattern by urban/rural split or by deprivation gradient. Excess winter death is clearly multifactorial.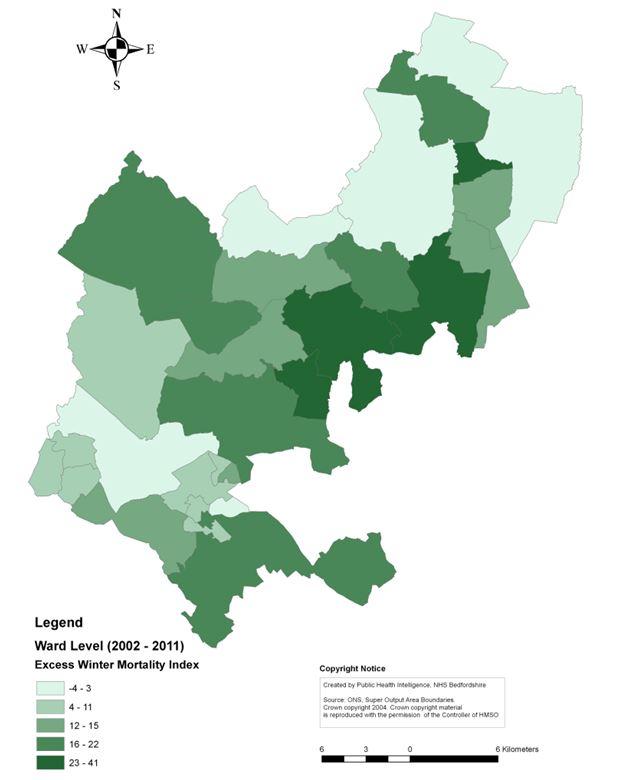 3.2 Excess winter mortality index all ages and all causes by electoral ward 2002 - 2011, Office for National Statistics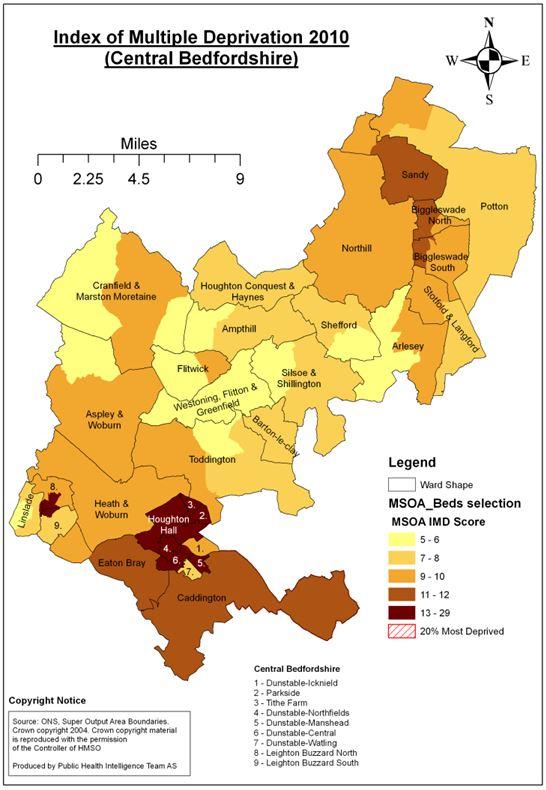 3.3a Index of multiple deprivation 2010 (Central Bedfordshire), Office for National Statistics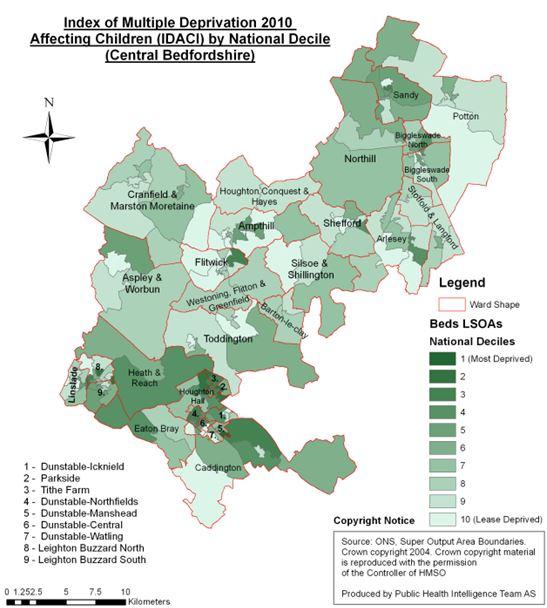 3.3b Index of Multiple Deprivation 2010 Affecting Children (IDACI) by national Decile (Central Bedfordshire), Office for National Statistics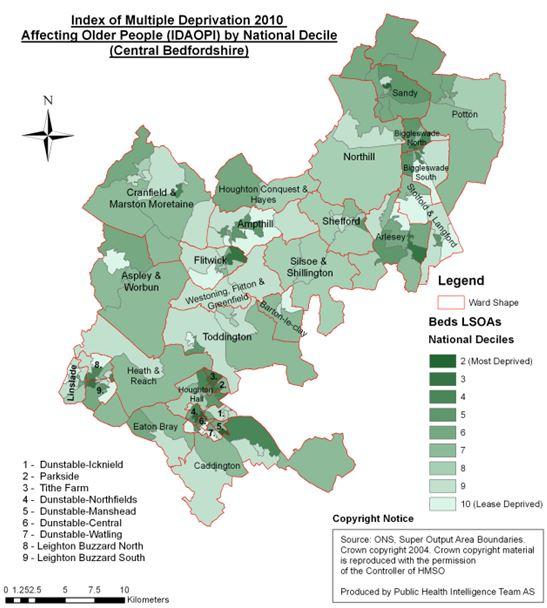 3.3c Index of Multiple Deprivation 2010 Affecting Older People (ODAOPI) by National Decile (Central Bedfordshire), Office for National Statistics
The role of fuel poverty
Public Health England has investigated the national pattern of excess winter deaths week-to-week over the winter months (2) Their analysis demonstrates that weekly peaks in excess deaths coincide with cold snaps and high circulating levels of respiratory viruses, i.e. influenza and respiratory syncytial virus.
The effects of cold temperatures are not felt exclusively by people living in cold homes, but most of the people in the vulnerable groups (over 65s, those living with long-term conditions or disabilities) will spend the majority of their time at home. The landmark Marmot review 'Fair Society Healthy Lives' and the more recent King's Fund report into health inequalities both identify warm homes as crucial to reducing the risk of death from cold temperatures, and specifically to reducing the social inequality in risk of death from the cold.
Fuel poverty describes the circumstance of a household having such high heating bills in proportion to its income, in order to keep the indoor temperature at a health-protecting level, that the household is living in poverty as a result. Statistically it is defined as a household which:
has required fuel costs that are above average (the national median level)
were they to spend that amount they would be left with a residual income below the official poverty line
This definition is new, and is felt to be more robust that the previous definition, in which a household was in fuel poverty if more than 10% of income needed to be spent on fuel (view the Fuel Poverty Methodology Handbook 2013). Households can find themselves in fuel poverty because of a low income, poor energy efficiency, high unit energy costs or a combination of the three. Households at particularly high risk are those living in private rented accommodation and those who are unemployed.
It is important to note that, like the excess winter deaths measure, fuel poverty is estimated rather than counted accurately. Statistics are published annually and are calculated using a complex model, which is based on survey findings about the size and age structure of households, the type and tenure of their dwellings, average energy prices and self-reported income. (View the Fuel Poverty Methodology Handbook 2013).
The most recent statistics available at ward level are from 2011. Overall, 9616 households or 9.2% of all households in Central Bedfordshire were estimated to be in fuel poverty. Provisional figures for 2012 suggest a drop to 7422 households (7.2%). The proportion varies substantially between areas, from over a quarter of households in Aspley and Woburn and Northill wards to less than 5% of households in more urban areas (figure 4.1 below).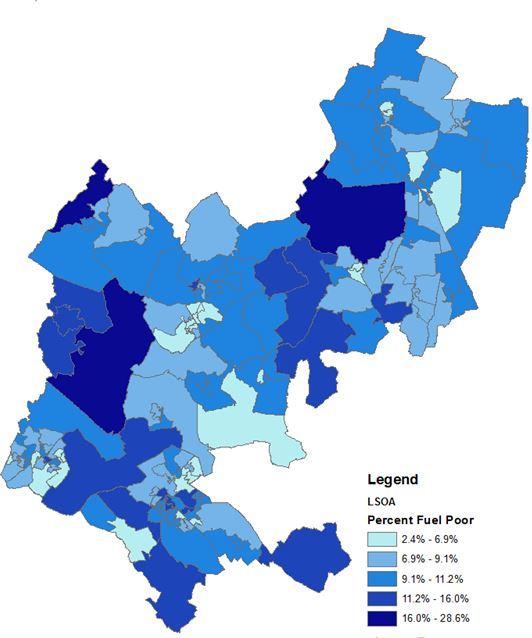 4.1 Prevalence of fuel poverty in Central Bedfordshire by electoral ward, 2011
Central Bedfordshire has a lower prevalence of fuel poverty than the regional and national averages (figure 4.2). The percentage of households affected has also reduced since 2010, following the national trend; the reduction is primarily due to increasing income rather than improvements to housing stock or home energy efficiency (Annual Fuel Poverty Statistics Report 2014, Department of Energy and Climate Change).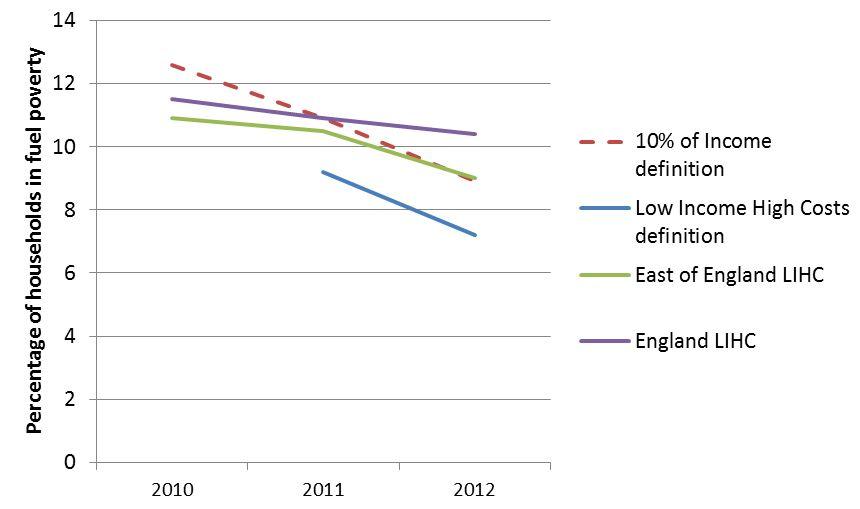 4.2 Percentage of households in fuel poverty in Central Bedfordshire, 2010-12 with regional and national comparators, Department of Energy and Climate Change fuel poverty statistics (3)
Notes: The LIHC value is only available at local authority level from 2011 onwards. The Central Bedfordshire figure using the 10% definition is available from 2010, hence it is presented for completeness.
A locally commissioned Housing Stock modelling exercise, performed by the Building Research Establishment in 2013, suggests that the nationally published figures may in fact be lower than the true value: twelve percent of all households were thought to be in fuel poverty under the 10% definition – a third higher than the comparable national figure.
Regardless of the measure used for fuel poverty, returning to its relevance as a risk factor for excess winter deaths, comparing the map in figure 4.1 with the distribution of excess winter deaths in figure 3.2 demonstrates that fuel poverty is not the whole story. Fuel poverty and other risk factors for excess winter deaths do not necessarily co-exist (figure 4.3 below) – the key to preventing excess winter deaths will be to solve fuel poverty first in those households where the risk is greatest.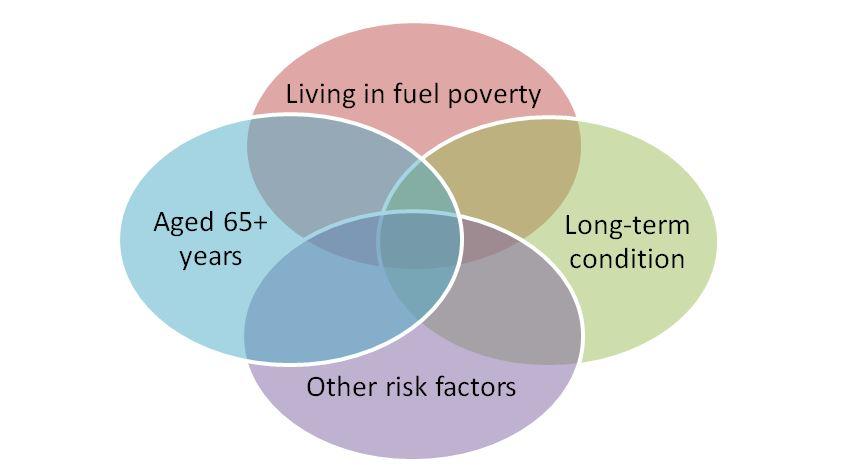 4.3 Conceptualisation of risk factors contributing to the prevalence of excess winter deaths
The magnitude of risk increases with the number of ovals an individual falls into. Other risk factors include being in one of the vulnerable groups (see Introduction) and behavioural factors such as wearing inappropriate clothing (4) and keeping windows open in the home (5)
The role of flu
The analysis by Public Health England takes account of the fact that circulating rates of respiratory viruses tend to coincide with periods of cold temperature. Using regression analysis to control for the interplay between these factors, the report demonstrates that influenza in and of itself makes a major contribution to the incidence of excess winter deaths.
At best, flu causes a severe fever illness which lasts for several days and necessitates time off work or school. At worst, it can cause hospitalisation and death through the illness itself, by causing decompensation of other long-standing conditions or through developing into pneumonia. Across Bedfordshire, 1404 people were hospitalised with an illness which started off as flu in the 2012/13 season and 167 people unfortunately died.
References
(1) Central Bedfordshire Joint Strategic Needs Assessment 2013. Population.
(2) Public Health England (2013). Excess winter mortality report 2012 to 2013
(3) Department of Energy and Climate Change (2014). Annual fuel poverty statistics report, 2014
(8) Department of Energy and Climate Change. Fuel poverty statistics
(9) Keatinge, W.R., Donaldson, G.C., Bucher, K., Jendritsky, G. & al, e. 1997, "Cold exposure and winter mortality from ischaemic heart disease, cerebrovascular disease, respiratory disease, and all causes in warm and cold regions of Europe", The Lancet, vol. 349, no. 9062, pp. 1341-6.
(10) Gascoigne, C., Morgan, K., Gross, H. & Goodwin, J. 2010, "Reducing the health risks of severe winter weather among older people in the United Kingdom: an evidence-based intervention", Ageing and Society, vol. 30, no. 2, pp. 275-297.
Last updated Wednesday, 25th July 2018