Current programmes/pathways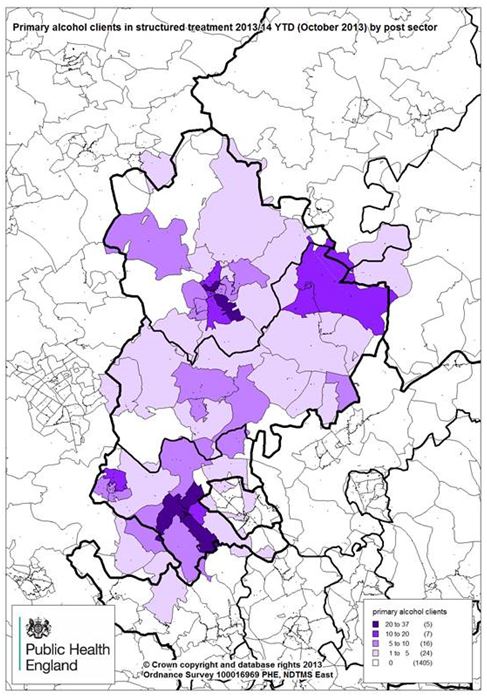 Figure 9: map of where service users originate from 2013/14
This figure illustrates the areas from which service users live. A large proportion of drug users live in Bedford and Dunstable, however there are also significant numbers from Leighton Buzzard and Sandy. This matches well with the services on offer, for example the Dunstable Hub. However it is important to ensure that individuals from all areas have good access to services, especially in more rural areas such as those in Central Bedfordshire.
Rate of hospital stays
Table 9: 2012 /13 Drug related hospital admissions (spells)

| Admission Method Description | Central Bedfordshire |
| --- | --- |
| Elective: booked | 17 |
| Elective: from waiting list | 4 |
| Elective: | 3 |
| Emergency: other means | 6 |
| Emergency:via A&E services | 386 |
| Emergency: via consultant OP clinic | <3 |
| Emergency: via GP | 12 |
| Maternity: where delivered after mother's admission | 12 |
| Maternity: where delivered before mother's admission | <3 |
| Transfer | 6 |
| Total | 449 |
Source: PH Shared Team, Mede Analytics Secondary Care Data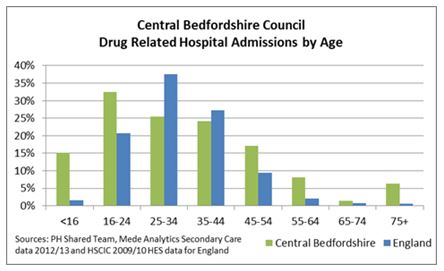 Figure10: Drug related hospital admissions by age group, 2012/13 Source: NDTMS
The age distribution of hospital stays is different from that nationally, with a younger age profile being admitted.
Residential rehabilitation (Tier 4)
The trend in those in residential rehab dipped to 2008/09 but then increased again. Numbers in residential rehab are small (13 per annum in Bedfordshire). The data reflects that levels of activity are stable however the numbers are low. This indicates that there could be an issue with pathways to and availability of resources for individuals who require residential rehabilitation interventions as part of their recovery journey. Concerns around the resources available for Tier 4 services across Bedfordshire has been raised by commissioners and is supported by a Health Needs Assessment that was carried out into Tier 4 provision.
Figure11: percentages of those in treatment undergoing residential treatment
Supplementary residential rehabilitation trend data for 2012/13 - Number and proportion of all clients with residential rehabilitation as part of their latest treatment journey, 2005-06 to 2012-13
Proportion
2011/12
2012/13
Clients with residential rehabilitation
All Clients
%
Clients with residential rehabilitation
All clients
%
Central Bedfordshire**
7
435
1.6
7
417
1.7
Cluster B
564
28,793
2.0
508
28,448
1.8
Central Bedfordshire has a slightly lower percentage of clients in residential rehabilitation compared to our cluster
Criminal Justice Clients
There are no comparison data published for England for this indicator.
successful completions, representations and times in treatment for criminal justice clients
Successful Completions
Representations
Time in Treatment
Source: Domes (1)
Opiate
Non-Opiate
Alcohol
Opiate
Non-Opiate
Alcohol
Drugs
Alcohol
Bedfordshire
2012/13
% No.

7%

4/60

20%

3/15

32%

8/25

0%

0/1

0%

0/2

0%

0/5

Central Bedfordshire
2013/14
Q.1
%No.

5%

3 / 59

20%

3/15

22%

6/27

50%

1/2

0%

0/1

0%

0/3

14%

2.0

13%

0.7

Q.2
%No.

6%

4/54

13%

2/15

36%

10/28

67%

2/3

0%

0/1

25%

1/4

14%

2.0

8%

0.6

England
2013/14
Q.1

%

No.

-
-
-
-
-
-
-
-
Q.2

%

No.

-
-
-
-
-
-
-
-
Criminal justice successful completion rates
When we compare Criminal Justice Successful Completion rates within Bedfordshire's cluster group upper quartile range CBC is performing at less than expected at this time in the year (Qtr. 2).
Further investigations need to take place to ascertain the reasons behind this, attrition rates and return to prison rates. It would be advisable also to interrogate community order rates in cluster group areas and correlating successful completion rates. It would be useful also to scope good practice amongst those areas that are performing well within the upper quartile range in the cluster group. This is an area that will be looked into in the evaluation of the drug and alcohol services that is currently underway.
Alcohol and Drug Related Crime and Disorder (Bedfordshire Police Force Drugs Strategy 2013/14)
Drugs related incidents cost the Force £18 million per year; in response to this the Force Drugs Strategy has been published. There continues to be a reduction in heroin use but there are remaining hard core heroin users who are not responding to treatment. Heroin users can be divided into 3 categories: those who have had problematic upbringings and lifestyles; those with mental health issues; and those career criminals who make a living out of dealing drugs. It is the career criminals who should be targeted as they take advantage of vulnerable people. There is an appetite amongst ex drug users to support the police in dealing with the 'nastier' side of the drug dealing market.
Young people have moved away from Class A drug use with the exception of some powdered cocaine, and are most commonly using methadone and cannabis. Cannabis use is generally not supported through crime other than supply offences.
A survey suggests that 30% of drug users are buying drugs outside of their home area.
There are increasing problems with users being sold PMA (para-methoxy amphetamine) believing it to be ecstasy; there have been at least 4 deaths in past 12 months.
Eastern Europeans are involved in the importation and supply of diazepam.
It is possible that in Bedford and Central the tightening of the substitute prescribing of methadone has resulted in increases in serious acquisitive crime, probably being committed by Integrated Offender Management and heroin dependent individuals.
Westminster Drug Project (WDP) currently manage the substance misuse compliment of the established Integrated Offender Management service in Bedford, Central Beds and Luton, WDP have recovery practitioners collocated in Probation engaging with other IOM partners, Police, Probation, ETE and Housing providers. WDP also oversee the DIP services across Bedfordshire, this involves reaching out to clients within the Criminal Justice System and engaging them into structured treatment. The aim of this service is to support changes in offender behaviour and remove issues which influence reoffending. In addition WDP also provide Drug rehabilitation Requirement/Alcohol treatment Requirement coordination across Bedfordshire and Luton and psychosocial treatment services in HMP Bedford.
Table 11: Caseload and referrals into integrated offender management service 2013/14
Current IOM caseload (Luton and Central Bedfordshire)
62
Referrals into structured treatment (Luton and Central Bedfordshire)
34
Current Caseload
DRR
13
ATR
12
Referrals into structured treatment
DRR
6
ATR
3
71% of IOM-managed offenders have stopped or reduced their offending. Of this number, 31% did not reoffend and 40% decreased their offending. There was a 24% reduction in the number of offences by IOM offenders. This equates to 278 fewer crimes, or a 59% increase in the number who did not reoffend.
Not known in treatment
Figures for those not known in treatment have to be calculated from the prevalence estimates (2010/11) that are available. The latest available prevalence estimate is not available for CBC and so these have not been shown but data are available for Bedfordshire as a whole.
'Known to treatment but not being treated' are those clients who were in receipt of tier 3 or 4 treatment the previous year but are not being treated the year for these data (2012/13). 'In treatment during financial year' includes those clients who were in treatment during the financial year but are not currently. This includes those who have completed treatment successfully or left treatment. These figures would suggest that there is a high number of opiate users who are not known to the treatment system across Bedfordshire. By referring to the numbers in treatment and the prevalence figures we can see that potentially there is a significant level of unmet need in CBC. This needs further investigation and a review of the prevalence figures and a scoping exercise around unmet need across CBC.
Table 12: numbers of individuals not known to treatment (2011/2012 prevalence data)

| Central Bedfordshire | Prevalence | In treatment now | In treatment during financial year | Known to treatment but not being treated | Not known to be in treatment | In treatment now | In treatment during financial year | Known to treatment but not being treated | Not known to be in treatment |
| --- | --- | --- | --- | --- | --- | --- | --- | --- | --- |
| OCU | 597 | 275 | 79 | 81 | 162 | 46.1% | 13.2% | 13.6% | 27.1% |
| Opiates | 517 | 258 | 78 | 73 | 98 | 51.8% | 15.1% | 14.1% | 19% |
| Crack | 259 | 141 | 45 | 35 | 54.4% | 17.4% | 14.7% | 18.5% | 13. |
Last updated Friday, 20th July 2018