Substance misuse, children and younger people and future trends
Young people data
Compared with England, Bedfordshire is either similar to or significantly better for all the indicators used in substance misuse. ChiMat Indicators (1)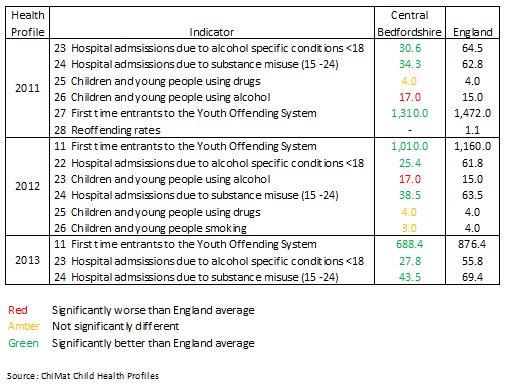 Child Health Profile Substance Misuse Indicators
Problem drugs users aged 15-24 years
Although the numbers are small, there are consistently 10-20 young people who are problem drug users every month in Central Bedfordshire. The way the National Drug Treatment Monitoring System (NDTMS) data have been reported by local authority changed in April 2013 with Bedford Borough and CBC now being reported separately with no data available for Bedfordshire. The number of people in treatment In Bedfordshire consistently seems to dip in August with a peak in March.
Future trends
'Club drugs' is a collective term for a number of different substances typically used by young people in bars and nightclubs, at concerts and parties. These drugs can be harmful and heavy use can develop into a dependency. Data collected since 2005-06 now tells us enough to form an idea of the scale and nature of the problems associated with the more established club drugs – ecstasy, ketamine, methamphetamine, GHB (gammahydroxybutrate), GBL (gammabutyrolactone) and mephedrone. What is becoming clear is that despite the widespread use of club drugs, they are currently causing a treatment problem for relatively few people. There is no evidence to suggest they are replacing the most damaging substances, heroin and crack, as drugs of dependency, but they can seriously harm the physical and mental health of the people who use them. Though only a small number of people need treatment for club drugs (just 2 % of over 18s and 10% of under 18s in contact with services), the figure is creeping upwards. There is an inevitable time lag between first use and developing a dependency, so we do not yet know how many more may require treatment in the years to come. But those club drug users who need help tend to respond well. Unlike typical heroin and crack users, they often have the good personal resources – jobs, relationships, accommodation.
Treatment typically involves psychosocial interventions, which address basic motivation and prevent relapse. It also benefits from links with other services, such as urology for ketamine users, sexual health for methamphetamine users and acute medical services as back up for GHB/GBL detox. All the experts say treatment services need to be alert to new trends and to adapt current treatment approaches accordingly. 'There is an argument for promoting services among specific populations where particular drug use is known to be high, such as gay men who use GBL.
References
Last updated Friday, 22nd April 2016