Successful completions
The Successful Completions indicator includes those clients who have successfully completed effective treatment drug free as judged by the professional working with them of those currently in treatment. Since April 2012 there has been a change in provider (as marked on the charts) and the method NDTMS employed to present data for Bedfordshire (from April 2013 Central Bedfordshire has been the geographical area used not Bedfordshire). The target is to have the same rate of successful completions as the top quartile of the cluster group we are in (cluster group B). For opiates there was a decline in successful completions before the new provider came on board and during the first few months of the new contract, before performance picked up. However there has been an increase in recent months. Non-opiate successful treatments in CBC saw a decline in successful completions around the time prior and after the new provider. Recently we have started to see an improvement in the proportion of successful completions, approaching the target of the best quartile in the cluster. There is a development plan in place with the current provider with specific targets to improve service development in CBC.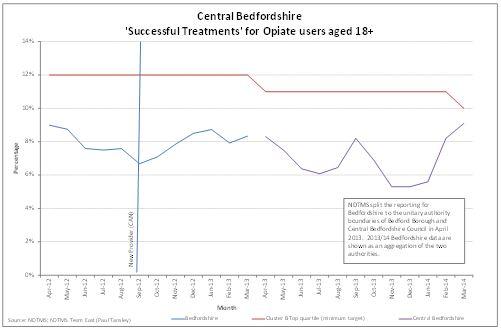 Successful Completions for Opiate Users,Source:NDTMS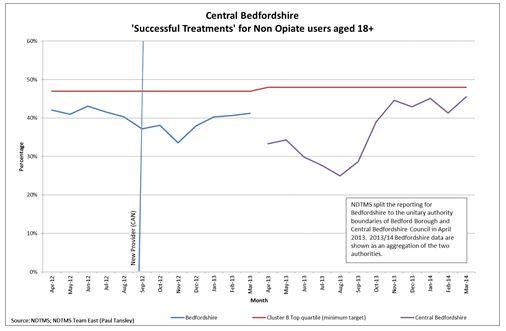 Successful Completions for Non-Opiate Users Source: NDTMS
Successful completions without representing
This measure differs from Successful completions because it looks at a 6 month time period to see if clients represent (successful completions are just those who completed effective treatment). We can see from the below charts that for opiates the trend is increasing although has not reached the England levels. For non-opiates the trend is stable although there has been some improvement more recently. An improvement plan is in place to ensure the appropriate training; data collection and recovery based interventions are being provided and offered. Consideration of improvement of successful completions for opiate users in CBC will be a priority for any future commissioning of services.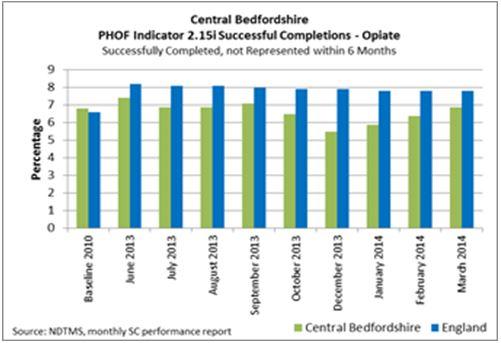 Successful Completions Without Representing for Opiate Users Source: NDTMS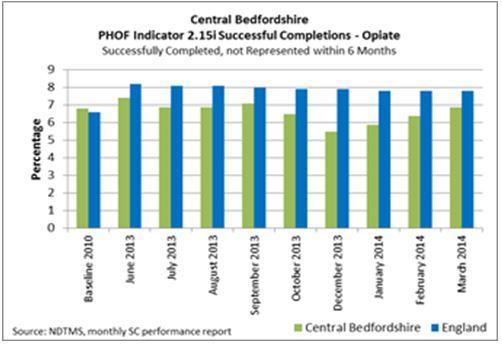 Successful Completions Without Representing for non-opiate Users
Last updated Friday, 22nd April 2016