Current activity and services
Chronic Obstructive Pulmonary Disease (COPD)
The current situation is mainly primary-care led and a community team service giving flexible provision. Smoking cessation with patients who have COPD as part of their treatment is part of the contract with Bedford Hospital and is being negotiated at Luton and Dunstable Hospital (L and D)
Bedfordshire CCG had a slightly higher rate of COPD (1.7 per 1,000, standardised) hospital admissions compared with the ONS cluster (1.5 per 1,000, standardised) in 2012/13 (1)
QOF had recorded the following for Central Bedfordshire, 2013/14:

89.6% patients with COPD had the FEV1checked in the previous 12 months;
98.0% COPD patients had vaccination against seasonal flu; this proportion was slightly higher than Bedfordshire CCG (97.8%)
94.0% of all patients with COPD (diagnosed after 1st April 2011) in whom the diagnosis has been confirmed by post bronchodilator spirometry. This was slightly higher than Bedfordshire CCG (93.4%)
92.8% of known COPD patients had a review within the preceding 12 months; this figure was higher compared to Bedfordshire CCG (91.7%)

The Acute Respiratory Assessment Service (ARAS) was set up in April 2012 to provide a facility where GPs and Community Matrons can refer patients who experience a flare up of their COPD
Stop smoking with pharmacotherapy is a cost effective treatment at £2,000 per QALY (2)
Although Community Matrons have a role in informal admission avoidance for exacerbations, there is no specialist service available
Breathe Easy support group helps patients self-manage
Public Health England has produced a web-tool called Inhale which brings together much of the information discussed here, both for COPD and asthma (3)
Service for home oxygen assessment and pulmonary rehab
Asthma
GP diagnose most of the asthma cases and largely manage the patients within the practice with the help of a practice nurse
77.2% of patients with asthma in Central Bedfordshire had a review in the previous 12 months that includes an assessment of asthma control. This was similar to the results from Bedfordshire CCG (76.7%- see Figure 10) and higher than England (75.6%)
Training for health professionals in CAKES (Children Assessment Knowledge Examination Skills) is delivered by L&D Hospital. It is an assessment course with the aim to teach a top to toe assessment of a child for all health care professionals. Within the course there is teaching on the urgent care pathways including asthma but primarily from an urgent care practitioners' standpoint.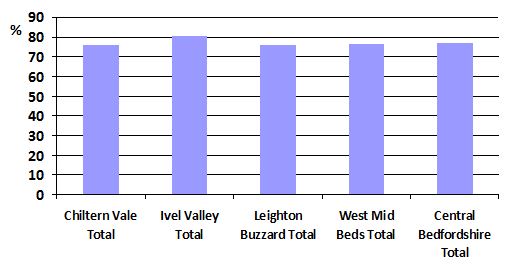 Figure 10 The percentage of patients with asthma who have had an asthma review in the previous 12 months that includes an assessment of asthma control (AST003) Source: QOF, 2013/14
An asthma treatment pathway has been produced, both for adults and children and young people aged 5-12, which includes Bedfordshire CCG Medicine Formulary recommendations. This is to comply with British Thoracic Society and SIGN guidelines on asthma in which a stepwise approach to asthma treatment is advised
Bedford Hospital and Luton and Dunstable Hospital see patients with uncontrolled asthma and either Addenbrooke's Hospital or the Royal Brompton Hospital for specialist asthma
The patients have a self-management tool on leaving hospital
References
(1) NHS Comparators
(2) An Outcomes Strategy for COPD and Asthma: NHS Companion Document, 2012
(3) PH England, Inhale- a web-tool containing data including COPD and asthma http://fingertips.phe.org.uk/profile/inhale [accessed19/08/14]
Last updated Friday, 22nd April 2016