Facts, figures and trends: Other sexually transmitted infections
Local Picture
Figure 5 shows the trend in new diagnoses of Syphilis, Gonorrhoea, Genital Herpes and Genital warts.
Central Bedfordshire is ranked 242 (out of 326 local authorities in England; first in the rank has the highest rates) of new STI diagnosis excluding chlamydia diagnosis in 15-24 year olds with a rate of 482.6 per 100,000 residents compared to 815 per 100,000 in England.
Central Bedfordshire is ranked 183 (out of 326 local authorities in England; first in the rank has highest rates) for the rate of gonorrhea, which is a marker of high levels of risky sexual activity. The rate of gonorrhea diagnoses in the local authority was 30.5 per 100,000 an increase from 2014 (21.5 per 100,000) compared to 70.7 per 100,000 in England .This was detected through local intelligence, earlier than the published GUMCAD national dataset , which has a lag time of 6 months. A campaign to encourage STI screening was implemented in response to the increase in gonorrhea to increase testing, identification and treatment.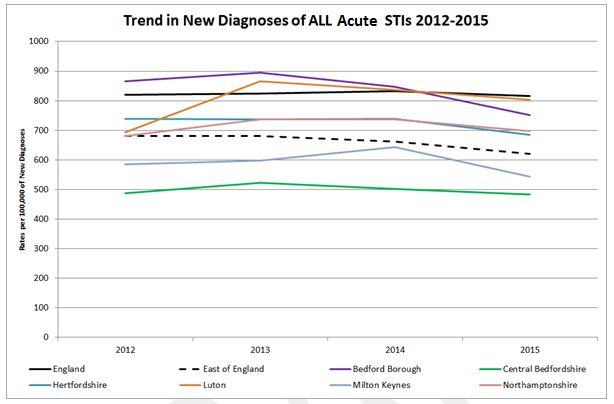 Figure 5: Trend in new diagnosis of ALL acute STIs 2012 - 2015.
Prevention messages should be promoted to all sexually active young people and adults, highlighting that individuals can significantly reduce their risk of catching or passing on HIV and STIs by:
Always using a condom correctly when having sex with casual or new partners, until all partners have had a sexual health screen.
Reducing their number of sexual partners and avoiding overlapping relationships
In June 2016 a small campaign was launched to encourage STI testing to include chlamydia, gonorrhoea and HIV
Reducing the burden of STIs requires a sustained public health response based around early detection, successful treatment and partner notification, alongside promotion of safer sexual and health seeking behaviour.
Reinfection of STIs
Re-infection with an STI is a marker of persistent risky behaviours. In Central Bedfordshire an estimated 5.6% of women and 5.9% of men presenting with a new STI at a GUM clinic during the five year period from 2010 to 2015 became re-infected with a new STI within twelve months. Nationally over the same period an estimated 7.1% of women and 9.3% of men presenting with a new STI at a GUM clinic became re-infected with a new STI within twelve months. There is still a need to continue with health promotion messages in order to provide guidance around safer sex and promotion of services providing sexual health information, advice and testing.
Abortion
Abortion (termination of pregnancy) is a healthcare need as well as a public health intervention (RCOG 2011). Unintended pregnancy knows no cultural or religious bounds and women of every faith and from all walks of life access abortion services (Education for Choice 2008).
Local Picture
The total number of abortions in Central Bedfordshire in 2015 was 720. The percentage change from 2014 is an increase of 3.3%.
| Age | Under 18 | 18 - 19 | 20 - 24 | 25 - 29 | 30 - 34 | 35+ | Total |
| --- | --- | --- | --- | --- | --- | --- | --- |
| Number of Abortions | 42 | 66 | 185 | 166 | 127 | 134 | 720 |
The abortion rate per 1,000 female population aged 15-44 years was 14.3 compared to the England rate of 16.7. This rate is significantly lower than the England rate but similar to the East of England rate.
27.0 % of women under 25 years who had an abortion in 2015, had also had a previous abortion. This s the same as England and slightly higher than the East of England rates of 24.8%.
43.0% of women aged 25 and over who had an abortion in 2015, had also had a previous abortion. This rate is lower than the England rate of 46.2% and the East of England rate of 45%.
Among NHS funded abortions, the proportion of those under 10 weeks gestation was 82.9%, while in England the proportion was 80.3%. Although there is another provider British Pregnancy Advisory Service (BPAS) for patient choice, the data indicates the preference is the local Acute Trust.
The choice of early medical abortion is likely to contribute to an increase in the overall England percentage of abortions performed under 10 weeks gestation, although the local and national figures have remained stable for 2014/15.
Early medical abortion is less invasive than a surgical procedure and carries less risk as it does not involve instrumentation or the use of anaesthetics. Medical abortions are also cheaper than surgical interventions (PHE LASER, 2015[1]).
The highest numbers of unplanned pregnancies occur in 20 to 35+ year olds. Unplanned pregnancies either end in abortion (planned or spontaneous) or a maternity. Many unplanned pregnancies that continue become wanted. However, unplanned pregnancy can cause financial, housing and relationship pressures and have impacts on existing children. Therefore, it is important to offer universal and easy access to contraception.
Long Acting Reversible Contraception (LARC)
The effectiveness of long-acting reversible contraceptives (LARC) is not dependent on the individual remembering to use them. These are intrauterine devices and contraceptive implants and are considered to be one of the most effective methods of contraception.
Figure 7 illustrates the rate of LARC prescribed in a primary care setting between 2011 and 2014. In 2014, Central Bedfordshire was ranked 178 out of 326 local authorities in England for the rate of GP-prescribed LARCs (1st has the highest rate), with a rate of 34.6 per 1,000 women aged 15 to 44 years, compared to 35.9 in East of England and 32.3 in England.
Figure 6:Rates per 1,000 women aged 15 to 44* years of Long Acting Reversible Contraception (LARC) prescribed in primary care for Central Bedfordshire local authority, East of England PHE Centre and England: 2011 to 2014 (PHE, 2014). Source: PACT. NHS Prescription Services' Prescribing Database *Age not provided for PACT data Rates based on the 2014 ONS population estimates (women aged 15-44 years).
Last updated Tuesday, 9th May 2017