HIV infection
An estimated 101,200 people were living with HIV in the UK in 2015. The overall prevalence was 2.3 per 1,000 population aged 15-59 years. Men who have sex with men (MSM) and black Africans are the groups most affected by HIV infection. The majority of infections are acquired sexually (>95%). The number of infections acquired through injecting drug use and mother to child transmission remains low.
The number of people living with diagnosed HIV infection in the UK has continued to increase, while the number of new HIV diagnoses remains stable at approximately 6,000 per year in recent years. People diagnosed late have a tenfold increased risk of death in the first year following diagnosis compared to those diagnosed early. It is estimated that 13% of people are living with HIV and unaware of their infection and remain at risk of passing it on if they are having unprotected sex. Reductions in undiagnosed infection can be achieved through increased HIV testing in STI clinics and in a variety of different medical services, in addition to primary care and community testing, including self-sampling. (PHE, 2015)
Local Picture
In 2015, the diagnosed HIV prevalence rate in Central Bedfordshire was 1.4 per 1,000 population aged 15-59 years, compared to 2.3 per 1,000 in England. However, there is vulnerability within the local area and 23% of the middle super output areas (MSOAs) in Central Bedfordshire had prevalence rate higher than 2 per 1,000.
Late diagnosis is the most important predictor of HIV-related morbidity and short term morality. Monitoring late diagnosis is essential to evaluate the success of HIV testing strategies. Between 2013 and 2015 in Central Bedfordshire, 50% of HIV diagnoses were made at a late stage of infection, this equates to 15 people. The late diagnosis rate for England is 40.3%.
New HIV Diagnosis
In England, of those diagnosed with HIV infection in 2015, 79% had residence information available.
Where residence information was available in 2015, 10 adult residents of Central Bedfordshire were newly diagnosed with HIV. The rate of new HIV diagnosis per 100,000 population among people aged 15 or above in Central Bedfordshire was 4.5 compared to 12.1 in England.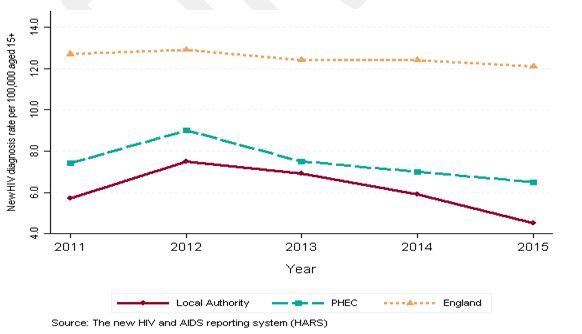 Figure 3: Rate of new HIV diagnosis per 100,000 population among people aged 15 or above by year in Central Bedfordshire compared to rates in areas of East of England PHE Centre (PHEC) and England: 2011-2015.
Figure 4 shows how the proportion of HIV late diagnoses in Central Bedfordshire compares to the rest of the East of England. The rate of late diagnosis in Central Bedfordshire is higher than the national average of 42.2% but significantly lower than surrounding areas such as Bedford Borough and Milton Keynes.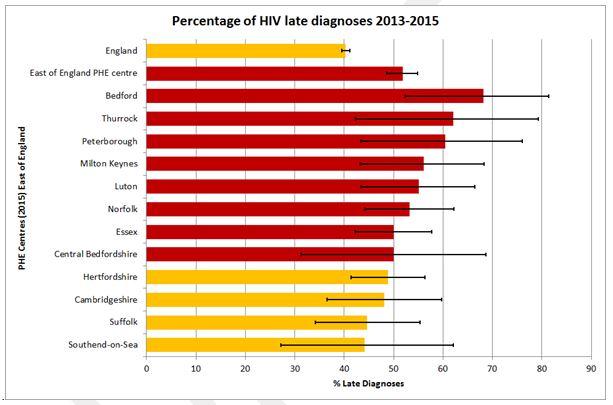 Figure 4: Percentage of late HIV diagnosis 2013 - 2015. Source: PHE 2015.
In England in 2015, 48% of new HIV diagnoses were in MSM, 15% in male heterosexuals, 19% in female heterosexuals; 53% of new HIV diagnoses were in white and 20% in Black African populations.
Increasing access to HIV testing can reduce the number of people being diagnosed late through earlier identification. In 2015, in specialist sexual health clinics (SHC) where patients from Central Bedfordshire attended, 91.1%.were offered a HIV test and those that accepted a test was 79.3%.
Nationally, an HIV test was offered to 80.4% of eligible attendances at specialist SHC and 76.2% chose to test. Increasing the uptake of HIV testing remains a priority for Central Bedfordshire in order to improve health outcomes following diagnosis. The offer and uptake of HIV tests for Central Bedfordshire residents will be monitored through the Integrated Sexual Health Contract.
Last updated Tuesday, 9th May 2017