Youth Smoking
The tobacco industry needs over 200,000 new smokers each year to replace those who quit or die (1) Smoking is an addiction of childhood and very few people take up smoking as adults for the first time; two thirds of smokers say they began before they were legally old enough to buy cigarettes and 9 out of 10 started before the age of 19. The younger the age of uptake of smoking, the greater the harm is likely to be. It is estimated that hundreds of children in the UK start smoking every day.
Smoking initiation is associated with a wide range of risk factors including parental and sibling smoking, the ease of obtaining cigarettes, smoking by friends and peer group members, socioeconomic status, exposure to tobacco marketing, and depictions of smoking in films, television and other media (2) Early uptake is associated with subsequent heavier smoking, higher levels of dependency, a lower chance of quitting, and higher mortality.
There is some evidence that multi-component prevention programmes for the prevention of substance misuse in young people can be effectively. These are approaches that deliver interventions in multiple settings; in school and family settings, typically combining the school curriculum with a parenting intervention.
There are many risk factors associated with increased likelihood of youth smoking including whether a parent, carer or sibling smokes. Lower socio economic status, higher levels of truancy and substance misuse are all associated with higher rates of youth smoking.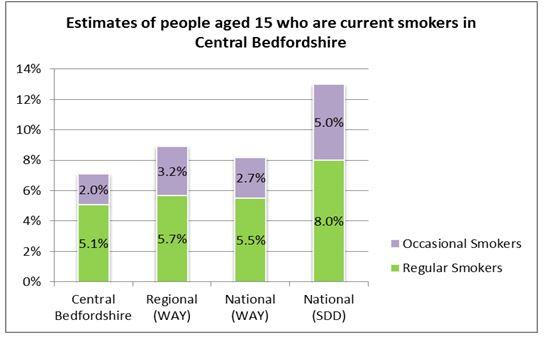 2014 - 2015 Source: Tobacco Profiles - Smoking Prevalence Integrated Household Survey
References
Last updated Friday, 3rd November 2017