Adult Smoking and health inequalities
Adult smoking prevalence in Central Bedfordshire is currently 17.5%.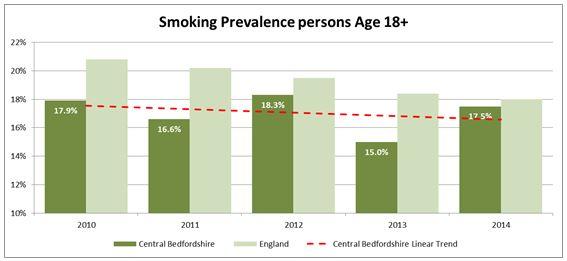 Smoking Prevalence in Central Bedfordshire, Tobacco Profiles - Smoking Prevalence Integrated Household Survey
Although recent data suggests a rise in smoking prevalence there are no statistically significant changes in the data, largely due to the small sample size. What is clear; is that smoking has a hugely disproportionate impact on our vulnerable communities. In Routine and Manual groups the prevalence is still 29.3%.
Smoking accounts for 50% of inequalities in health between the better and worse off and correlates highly with indices of deprivation; with a linear increase in smoking with increasing disadvantage. Not smoking can allow people to leap the health gap, with the poorest non-smokers typically having a substantially longer life than the richest smokers. More people in disadvantaged communities smoke, where smoking in more socially acceptable. On average, all smokers make similar numbers of quit attempts each year but, well-off smokers are much more likely to succeed.
As well as geographical differences in smoking patterns, heavier and more addicted smokers are also disproportionally found within some population groups.
Particularly vulnerable groups include:
Routine and manual workers
People with mental health condition
Black and minority ethnic groups
Prisoners
Pregnant women
Last updated Friday, 20th July 2018