Kick Ash Programme
The Kick Ash programme is an evidence based programme for young people which includes prevention, cessation, enforcement and advocacy; the aim to create an environment where young people choose not to smoke. The programme adopts a community development approach and is based on the principles of partnership and community empowerment, led by young people for young people.
Kick Ash incorporates 3 tiers with varying degrees of commitment from schools:
Smokefree Policy - Tier 1
Smokefree school sites and non-smoking staff provide positive role models for children and young people. Twenty schools across Central Bedfordshire have signed up to the 'Kick Ash Smokefree Policy' or have confirmed they are adhering to an existing Smokefree Policy.
Operation Smoke Storm - Tier 2
Operation Smoke Storm is a resource proven to shift young people's attitudes towards smoking and the tobacco industry. Developed with Department of Health funding, Operation Smoke Storm has been shown to improve student attitudes and misconceptions around smoking by as much as 39%, as well as increase awareness of key smoking issues by 77%. Seven schools are signed up to deliver Operation Smoke Storm in Central Bedfordshire throughout 2015/16.
Kick Ash Programme - Tier 3
The Kick Ash Programme involves students in Year 10 opting to act as 'Kick Ash Mentors' for their peers. Mentors are recruited to represent a wide cross section of students from varying social backgrounds and as part of the programme elect to be part of a specialist interest group. Students will have the option of working with Central Bedfordshire's Stop Smoking Service, Communications and/or Trading Standards.
The following upper schools are now implementing the Kick Ash Programme:
Queensbury Academy, Dunstable
All Saints Academy, Dunstable
Samuel Whitbread Academy, Shefford
Academy of Central Bedfordshire, Houghton Regis
Sandy Upper School, Sandy
Oak Bank School, Leighton Buzzard
Manshead Upper School, Caddington
Summary of student engagement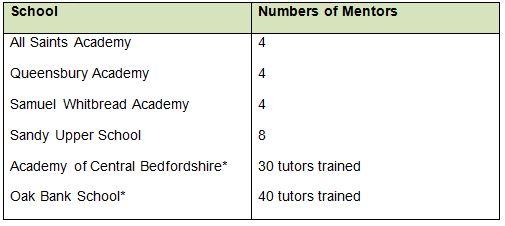 Summary of Student Engagement, Academy of Central Bedfordshire and Oak Bank School have a tailored Kick Ash Programme to meet the schools needs
Summary of sessions facilitated by Kick Ash Mentors in schools and community

Last updated Friday, 22nd April 2016