Stop Smoking services
Evidence shows that specialist Stop Smoking Services offering evidence-based behavioural support, alongside effective pharmacotherapy provide smokers with highly effective treatment for tobacco dependence.
Based on a standard relapse curve, the Stop Smoking Service more than triple abstinence rates in the long term compared with smokers who quit without support.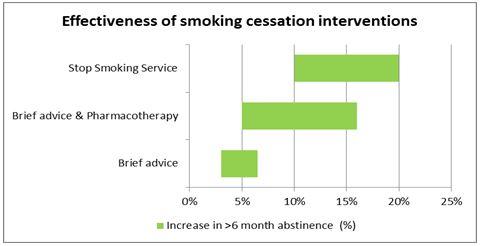 Effectiveness of smoking cessation interventions, *Comparator is no support / Placebo, Source: Data from Cochrane reviews
Central Bedfordshire Stop Smoking Service provides a range of specialist evidence based interventions that consistently achieve success rates within the DH guidance of 35% and 70% and comply with quality principles. The service also:
Coordinates delivery and performance management of other local providers
Supports implementation of new projects and services
Provides training and professional support to ensure a high quality fully integrated Stop Smoking Service
Central Bedfordshire achieved 80% of the annual target in 2014/15 and saw a 4% increase when compared with 2013/14. Nationally, footfall to Stop Smoking Services saw a downturn of 24% which puts Central Bedfordshire in the top third of Stop Smoking Services in the country.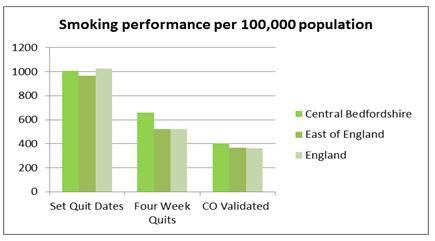 Smoking performance per 100,000 population, Source: HSCIC data April 14 to March 15
Stop Smoking Services are not only effective in supporting smokers to quit but highly cost effective too. 'Cost per quitter' in Central Bedfordshire is significantly lower than the national average at £258.00 compared with £500.00 nationally and £423.00 in the East of England. Effectiveness of smoking cessation interventions, *Comparator is no support / Placebo Source: Data from Cochrane reviews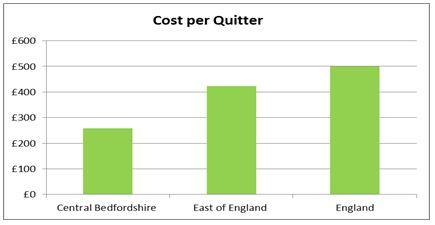 Cost per Quitter in Stop Smoking Services, Source: HSCIC data April 14 to March 15; now includes pharmacotherapy costs
The customer feedback which the service receives overwhelmingly demonstrates the appreciation of satisfied customers and reflects the personal development achieved in successfully quitting with support from the Central Bedfordshire Stop Smoking Service, leading to improved health outcomes for local residents:
'I would recommend the service to anyone trying to give up smoking. My advisor was fantastic and always on the end of the phone when I needed her. I could not have given up without your help so thank you from the bottom of my heart.'

'The Stop Smoking Service was the key to helping me stop smoking. I will forever be in my advisors debt for her kindness and interest in helping me succeed. I am not addicted to nicotine anymore and I never want to light a cigarette again.'

'I'd like to say what a brilliant program runs to help people like me stop smoking. I was never made to feel stupid or a failure and this really helped as nobody was nagging me or telling me I had to do it, I did it for me. I hope more people find out about you and I will be spreading the word as your biggest fan to get people to quit. I love being a non smoker and will help others stop whenever I can. Thanks for all your hard work and help. I couldn't have got there if it wasn't for this program so am so grateful.'

'I think it's hard to find people that genuinely understand the power that cigarettes have on someone's thoughts and actions. Your staff are patient, kind and most importantly knowledgeable, giving advice that you're able to take away to make that change every step of the way.'

'A big thank you to the team at the stop smoking service for all the advice given to me start to finish. From the first phone call where I was put at ease to my very last session where I was assured I could come back I felt comfortable and supported the whole way through. Just knowing someone was on the end of the line if I needed them was a big help and the small hints and tips ended up being the big things that helped me stay quit.'
Last updated Wednesday, 1st November 2017