Hypertension: facts, figures and trends
Hypertension, or high blood pressure, is a chronic condition in which pressure exerted by the blood on the walls of the arteries rises; the heart then has to work harder to pump blood through the blood vessels.
Most cases are diagnosed as 'essential hypertension' which means that the high blood pressure is with no obvious underlying medical cause. Hypertension is a risk factor for stroke/TIA, heart attacks, heart failure, arterial aneurysm, peripheral vascular disease and chronic kidney disease.
The observed prevalence of hypertension in 2015/16 was 40,698 (14.0%) in Central Bedfordshire and 466,465 (13.9%) in Bedfordshire CCG. These are similar to the NHS England rate (13.8).
The estimated prevalence and the known prevalence, p3 in various subgroups of the population are shown here. The gap between recognised and actual hypertension levels has been long recognised.
Clinical management
81.6% in Central Bedfordshire and 80.5% in Bedfordshire CCG of the patients on the hypertension disease register have their blood pressure under 150/90, 2014/15 (Figure 6). Central Bedfordshire's results were slightly higher than the Best 5 of 10 similar CCGs (81.1%).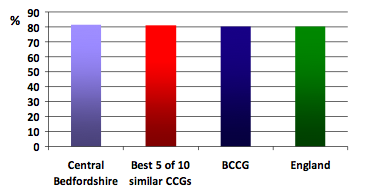 Figure 6: Hypertension patients whose blood pressure <150/90, 2014/15. Source: QOF, 2014/15, Commissioning for Value, May 2016
Last updated Wednesday, 1st November 2017