Atrial fibrillation: facts, figures and trends
In AF, a form of irregular heartbeat, the upper chambers of the heart contract in a fast and irregular way. As a result, blood pools in the heart and this increases the risk of blood clots forming in the heart chambers. These can release tiny embolus and can cause either TIA or ischaemic stroke. Detection and treatment of AF is an effective strategy for the reduction of stroke among those with this condition.
The prevalence of AF recorded was 4,809 (1.7%) in Central Bedfordshire and 7,636 (1.6%) in Bedfordshire CCG, 2015/16; England's rate was similar (1.7%).
Clinical management
In 2014/15, 74.0% of the high stroke risk Atrial Fibrillation patients (ie CHADS2 score greater than 1) were treated with anti coagulants or anti platelets in Central Bedfordshire and 75.0% in Bedfordshire CCG. These are lower than the Best 5 of 10 similar CCGs (77.4%)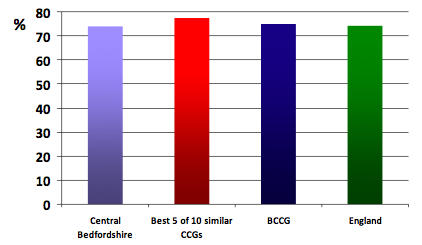 Figure 5: AF patients: high stroke risk (CHADS2 score is greater than 1) treated with anti-coagulation therapy, 2014/15. Source: QOF, 2014/15, Commissioning for Value, May 2016
Last updated Tuesday, 25th July 2017