Stroke: facts, figures and trends
Stroke is due to loss of blood supply to brain cells. This affects the body which are controlled by these brain cells. A TIA (Transient Ischaemic Attack) or a 'mini stroke' occurs when a temporary loss of blood supply affects the brain cells and parts of body temporarily for less than 24 hours
The most important modifiable risk factors are high blood pressure and atrial fibrillation and other factors associated with them. These are high blood cholesterol levels, diabetes, smoking (active and passive), heavy alcohol consumption and drug use, lack of physical activity, obesity and unhealthy diet.
Strokes can have a devastating and often lasting impact on the lives of people experiencing them and their families. It is the single largest cause of adult disability in England.
A third of people who have a stroke are left with long-term disabilities. The effects can include aphasia, physical disability, loss of cognitive and communication skills (e.g. leading to aphasia), depression and other mental health problems. Stroke survivors may have difficulty with everyday tasks. This can lead to feeling alone and disconnected from family, friends and the wider community, and to a loss of self-esteem, where the person feels unable or unwilling to do things for themselves.
Social support is an important part of stroke recovery.
Prevalence
In 2015/16, the observed prevalence of stroke was 4,420 (1.5%) in Central Bedfordshire and 7,035 (1.5%) in Bedfordshire CCG; Central Bedfordshire had a lower rate compared to England (1.7%)
Clinical management
Diagnosis and management
Figure 4 shows the diagnosis and management for Central Bedfordshire, Bedfordshire CCG, Best 5 of 10 similar CCGs and England. Central Bedfordshire's indicators were below the rate of the Best 5 of 10 similar CCGs.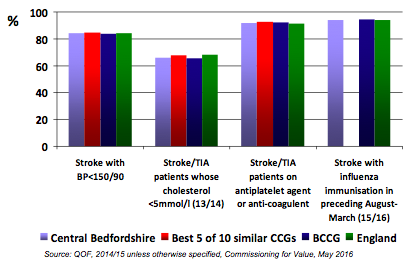 Figure 4: Diagnosis & management for stroke & TIA, 2014/15 unless otherwise specified. Source: QOF, 2014/15 unless otherwise specified, Commissioning for Value, May 2016
Admissions
In 2014/15 the admission rate for stroke in NHS Bedfordshire CCG was 133.6 per 100,000 (505 admissions). This is significantly lower than England (171.9). The admission rate for strokes in the CCG decreased by 12.5% between 2004/05 and 2014/15.
81.4% of BCCG's patients spent 90% of their time following admission on the stroke unit (2014/15). This was statistically significantly, p5 lower than the Best 5 of 10 similar CCGs (86.3%).
Ambulance response times are very important for acute stroke patients as prognosis is party dependent on the time to start treatment.
Premature mortality
The premature mortality rate due to stroke in Bedfordshire CCG was 10.5 per 100,000 in the three-year period 2012-2014. The early mortality rate, p6 is significantly lower than England (13.8).
Last updated Wednesday, 1st November 2017