CHD: facts, figures and trends
Prevalence
8,615 (3.0%) in Central Bedfordshire and 13,845 (3.0%) in Bedfordshire CCG (BCCG) were diagnosed to have CHD and were on the disease register in 2016. This is lower than the prevalence for NHS England (3.2%).
The observed prevalence for CHD in Bedfordshire CCG was thought to be about 76% of the estimated prevalence indicating about a quarter of the population with CHD have unrecognised and undiagnosed disease, 2015. The reported to estimated CHD prevalence in was compared to 70.5% for England and 75.5% for the Best 5 of 10 similar comparator CCGs (see Figure 1).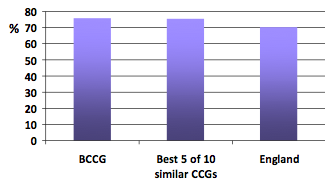 Figure 1: Reported to observed CHD prevalence (2014/15). Source: From data in NHS RightCare Cardiovascular disease focus pack, 2016
Clinical management
Figure 2 illustrates the percentages of patients with CHD, monitored through recommended care management indicators. Central Bedfordshire had slightly lower results than the average of Best 5 of 10 similar CCGs.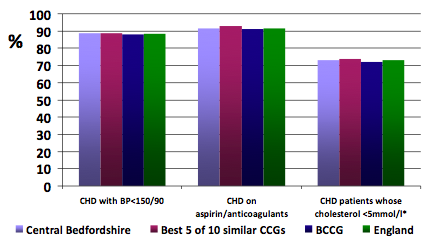 Figure 2: Primary care clinical management of patients with CHD in Central Bedfordshire. Source: QOF, 2014/15, *2013/14
Coronary heart disease (CHD) admissions
In 2014/15 the admission rate for CHD in Bedfordshire CCG was 545.3 per 100,000 (2,132 admissions). This is slightly higher than England, p5 (539.7 per 100,000)
Mortality
Premature mortality (before the age of 75 years) due to coronary heart disease (CHD) increases with age and CHD is the largest contributor for cardiovascular disease (45%). In the same way, acute myocardial infarction (MI or heart attack) is one of the diseases that make up CHD. In the three year period 2011-13, the premature mortality rate from CHD and acute MI was 36.4 and 19.4 per 100,000 respectively in Bedfordshire CCG: these were statistically significantly higher than the Best 5 of 10 similar CCGs (Figure 3).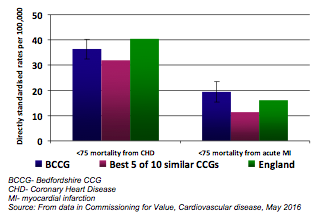 Figure 3: Premature mortality due to Coronary Heart Disease & acute MI, 2011-13. Source: From data in Commissioning for Value, Cardiovascular disease, May 2016
Reference
(
1
) Mid Essex, West Essex, East and North Hertfordshire, Nene, Basildon and Brentwood, Dartford, Gravesham and Swanley, West Kent, Wiltshire, Chiltern and Southern Derbyshire
Last updated Wednesday, 1st November 2017