Facts, figures and trends
Numbers of people affected by Cancer
Incidence of Cancer
686 men and 656 women of all ages were newly diagnosed with cancer in Central Bedfordshire, 2014. Figure 1 shows the standardised timeline. The rates tended to be lower than the national data. The incidence in Central Bedfordshire were slowly increasing and in 2014 the main cancers were:

Men: Prostate (30%) and Colorectal (13%)
Women: Breast (29%) and Colorectal (13%)

Figure 1: Incidence of all cancers for all ages (directly standardised), 2001-2014. Source: CancerStats, 2016
Modifiable risk factors
The results for modifiable risk factors in Central Bedfordshire were:
Physical active: better rate compared to similarly deprived local authorities, 2015
Excess weight in adults: worse rate compared to similarly deprived local authorities, 2013-15
Alcohol related admission to hospital- narrow definition (persons): similar rate compared to similarly deprived local authorities, 2014/15
Fruit & veg '5-a-day': worse rate compared to similarly deprived local authorities, 2015
Current smoking prevalence in adults: worse rate compared to similarly deprived local authorities, 2014/15
Harm caused by Cancer
Cancer Mortality
Premature mortality (below the age of 75 years) from cancer in England and Central Bedfordshire fell between 2001 and 2014 as shown in Figure 2. England was generally higher than Central Bedfordshire and males had higher rates than females.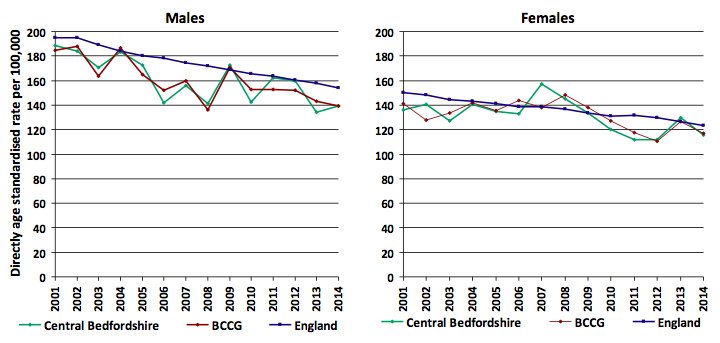 Figure 2 Mortality from all cancers in males and females under 75y. Source: CancerStats, 2016
The most common cancers resulting in death in those aged 75 years or under were lung, colorectal, oesophageal and prostate cancers for males and breast, lung, ovary and colorectal cancers for females (see Figure 3)
Although there are more than 200 different types of cancer, together these account for over half of all cases newly diagnosed.

Figure 3: Standardised cancer mortalities under the age of 75 by sex for Central Bedfordshire, 2012-14. Source: CancerStats, 2014
Years of Life Lost (YLL)
Years of Life Lost (YLL) measures the number of years a person would have lived if they had not died prematurely at an age of less than 75 years. It is useful for highlighting causes of death that affect younger people. The rate for males was higher than for females and there is no statistical significance between Central Bedfordshire and England (see Figure 4).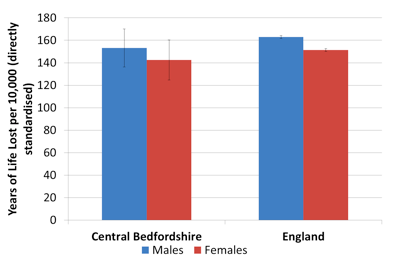 Figure 4: Years of Life Lost due to mortality below 75y for all cancers 2012-14 (pooled). Source: Office for National Statistics Deaths Registrations, 2016.
Having money worries whilst being diagnosed and recovering from cancer can add to the stress and suffering of coping with the disease. Macmillan research in 2013 concerning the costs of cancer has suggested that cancer has an average monthly cost of £570 due to loss of income and increased costs including hospital travel costs and increased heating costs. People are not always aware of the financial help that they are eligible for and that they find the benefits system complex and difficult to navigate. Organisations like Macmillan Cancer Support offer vital information and access to services.
A study by the Nuffield Trust in May 2014 studies the primary and secondary health and social care use of just over 8,000 people with a first diagnosis of cancer. 10% of people received a local authority social care assessment within 3 months of being diagnosed with cancer and the same percentage went on to receive some form of local authority funded social care service. After diagnosis more people were receiving social care than expected due, it is thought, to the receipt of home care. This study believed to be the first to attempt to link data on primary care, hospital and local authority funded social care use with data held by cancer registries. Because so few people in the sample were assessed for social care it is difficult to know how many might have benefitted from social care but did not receive any, the number of people who did not know how to access such services, were unwilling to ask for help or did not meet the council's eligibility criteria.
Death in usual place of residence from cancer
45% of deaths happened in the usual place of residence where the underlying cause was cancer, 2015. That was a slightly higher proportion compared to Central Bedfordshire's deprivation decile (44%). This has risen over the last 10 years although recently it has remained at a steady level.
Ethnicity and Cancer
The National Cancer Intelligence Network (NCIN) report on ethnicity (2009) suggested that:
Overall, the incidence of cancer in the minority ethnic population (BME) was lower than that of the white British population
Much of the difference in incidence was attributable to differences in lifestyle and behaviours (such as tobacco consumption, diet, obesity and alcohol)
Certain minority ethnic groups have higher incidence of specific cancers; for example prostate cancer in Black African and Black African Caribbean men. No reason has yet been found to explain this but it has been suggested that there may be a genetic link
Survival rates for people with cancer may also be affected by ethnicity. This may reflect later presentation among minority ethnic groups. There is increasing evidence that this is a factor in the relatively poor survival of Black African/Black African Caribbean women with breast cancer
In 2012, NCIN found that there are differences in the incidence of lung cancer between ethnic groups. Lung cancer was most common in White and Bangladeshi men and White groups in women
Projected future position if no action taken & Scope for improvement
Survival
Since 2008 Bedfordshire CCG's one-year survival for lung cancer has been statistically worse than England's figures and similar for breast and colorectal cancers (see Figure 5). However, if the comparison is against Best 5 of similar 10 CCGs (1) both breast and lung cancer are statistically significantly lower
Cancer survival rates are increasing in both Central Bedfordshire and England. Cancer awareness and early diagnosis are the most important factors to improving survival. Cancer diagnosed at an early stage was statistically higher (57.9%) at Central Bedfordshire compared to its deprivation decile (51.7%), 2014. However, cancer survival in England remains poor in relation to comparable countries
37% of those who return to work after cancer treatment say they experience some kind of discrimination from their employer or colleagues while 9% feel harassed to the point they feel they cannot stay in their job. One in 10 of those returning to work said their employer failed to make reasonable changes to enable them to do their job
Surviving cancer exposes an individual to continuing physical and mental health problems, and therefore not all cancer survivors will wish to return to paid employment.

Figure 5: Trend of one-year survival for breast, lung and colorectal cancers, Bedfordshire CCG. Source: CancerData, 2016
Reference
(
1
) Mid Essex, West Essex, East and North Hertfordshire, Nene, Basildon and Brentwood, Dartford, Gravesham and Swanley, West Kent, Wiltshire, Chiltern and Southern Derbyshire
Last updated Thursday, 2nd August 2018