The national and local picture
National data estimates the rates of mental health problems in males between the ages of 5-10 years is almost twice that of females (10.4% vs 5.9%) and the rate in females increases to narrow this gap by the ages of 11-15 years (12.8% for males and 9.65% for females) (1). There are an estimated 1,100 males and 595 females aged 5-10 years with a mental health problem in Central Bedfordshire (2) and 1,260 males and 905 females aged 11-15.
Mental Health illness affects many people across all ages and in 75% of people with a lifelong mental illness their symptoms started before their mid-twenties (3). At least one in six people will experience a mental health problem in any one year (4). Some people might have a single episode of mental illness and people of all ages are affected; 10% of 15-16 year olds experience mental health illness and mental health illness is the leading cause of long term absence from work (5).
Mental Health disorders in children and young people are divided into the following categories: conduct disorders, emotional disorders (anxiety disorder including OCD and phobias, depressive disorders); hyperkinetic disorders (including Attention Deficit Hyperactivity Disorder); developmental disorders (Autistic Spectrum Disorder); eating disorders; substance misuse; psychotic disorders and self-harm.
Mental health illness results in a broad range of impacts (6). Impacts of Mental disorder in childhood and adolescence:
Poorer health and lower levels of educational attainment
Higher risk of self-harm and suicide
Several-fold higher levels of health risk behaviour such as smoking, alcohol consumption and drug misuse
Higher rates of antisocial and offending behaviour and violence
One in ten children and adolescents between the ages of 5-16 years has a clinically diagnosed mental disorder in Great Britain (10%) (7) (ONS mental health GB 2004). This equates to approximately 3,682 children aged 5-16 years in Central Bedfordshire.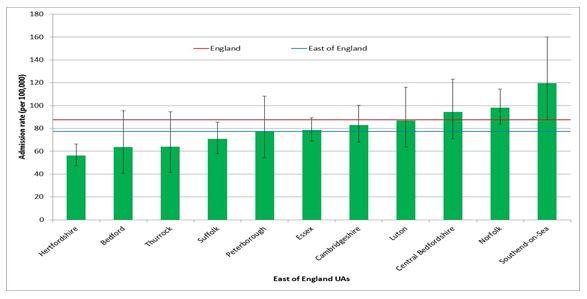 Hospital admission rate for 0 - 17 year olds for mental illness 2012 - 2013 for East of England UAS, Children's and Young People's Mental Health and Wellbeing (PHE)
The figure above shows that hospital admission rates for mental illness in Central Bedfordshire is high compared to other UAs in East of England.
References
Last updated Wednesday, 1st November 2017