Current programmes and pathways activity and services
Public Health
As a direct response to the 2014 Health related behaviour and perception survey, a more detailed emotional wellbeing survey is being commissioned by Public Health to be implemented in October 2015. Results will inform priorities and interventions for the future.
The Central Bedfordshire PSHE/ SRE Partnership network has been developed by Central Bedfordshire Public Health in collaboration with The Teaching School, service providers and commissioners to offer support and information to schools for their PSHE and SRE provision. Good quality PSHE and SRE are essential to developing the qualities and attributes pupils need to thrive as healthy individuals, enabling them to fulfil their potential in life.
Aspire is an evidence-based, early intervention programme commissioned by CB that offers young people at risk of poor outcomes, small group support and individual coaching, with an emphasis on raising future aspirations. In the academic year 2012/13, the programme was delivered across 13 schools (both middle and upper) in high teenage pregnancy areas in Central Bedfordshire. All those who joined the programme were closely monitored over the year to measure the impact and outcomes of the intervention. Evaluation has shown that the Aspire programme has successfully improved the aspirations of those taking part in the programme.
Child and Adolescent Mental Health Services
Child and Adolescent Mental Health Service (CAMHS) is usually described as a four tiered system. (Figure 10)
It is estimated that in Central Bedfordshire, 8580 young people will experience mental health problems appropriate to a Tier 1 response from CAMHS, and 4005 young people will experience mental health problems appropriate to a Tier 2 response from CAMHS (aged 17 and younger ) (1)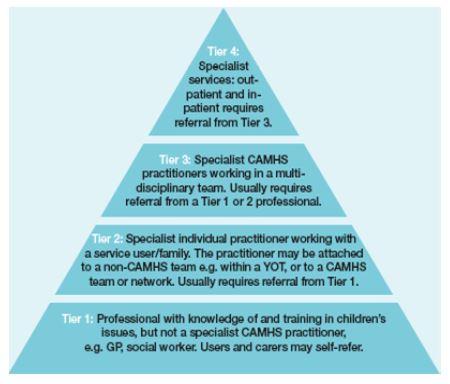 Pyramid of care for mental health services, Taken from CAMHS strategy review (1)
There is a range of early intervention mental health support services that operate in the universal sector, including schools, health and social work settings. Examples of Tier 1 and 2 services include:
school-based counsellors
The school nursing service available for all schools and running drop in sessions for years 7 and above.
projects to support children at risk of exclusion
youth support service advisers, health visitors, social workers and GP-based counsellors
voluntary sector providers.
Health Visitors
Universal services are provided by Health Visitors and School Nurses for all children, young people and their families, as part of their delivery of The Healthy Child Programmes 0-5 years and 5-19 years
Providing antenatal care and postnatal parenting programmes which support positive mental health of parents and carers
Supporting general access to 'talking therapies' and parental support
Providing assessment of parental mental health needs including maternal mental health at 6/8 weeks
Early identification of attachment/bonding concerns
Delivering health promotion, advice and support
Signposting to financial and welfare support
Supporting breastfeeding and promoting secure attachment
School Nurses
Ensuring assessment of health and wellbeing need and early identification of risk factors
Advice and support for children and young people and their families
Providing health checks to indicate developmental concerns and delays
Ensuring support for health promotion and change management around issues such as obesity, smoking, drugs and relationship issues and sexual health
Specific to local service in Central Bedfordshire and Bedford Borough: Triage role for School Nurses – if mental health issue identified, School Nurse to provide immediate advice and/or further assessment or referral to other agencies with interim support. Option for up to 6 follow-up contacts or interventions from the School Nursing Service.
Early Years Provision
parents, carers, children and young people access a wide range of other services delivered by the statutory, third and private sectors in a variety of settings. These providers should be able to promote mental health and psychological well-being, and access support, including support for staff development.
Schools
are central stakeholders in promoting mental health and psychological well-being. It is important to continue to develop the capacity of Central Bedfordshire schools to promote well-being and play a pivotal role in prevention and early intervention through a range of programmes. It will also be important to continue to evaluate the Mental Health Support in Schools to deliver joint support across partners for those children who are at risk of experiencing mental health problems.
Colleges
the move from school to further education has been identified as a stressful transition point and in addition, the population of students attending FE colleges may be more vulnerable than other groups to emotional and mental health problems. An increasing number of colleges are taking a more systemic approach to promoting mental health and psychological well-being.
General Practice
GPs work well in collaboration with other health and social care practitioners.
Youth Services
Youth work provides rich opportunities for promotional work and pro-active interventions. The relationships which youth workers develop with young people and the informal settings, in which the work takes place, lend themselves well to promoting healthy life styles. Youth workers are in a stronger position to respond to young people's concerns about their mental health where they have access to youth information and counselling services.
| Conduct disorders | Emotional disorders |
| --- | --- |
| A range of parenting support available covering the age range recommended. (Group based, Strengthening Families 10-14 programme includes young people and parents). Unclear if individual interventions for adolescents exist. Only 1% of conduct disorders seen by specialist CAMHS in 1 month. | Most psychological services are only accessible through tier 3 specialist CAMHs referral although help may be given by educational psychologists and/or counsellors at tier 2. |
| Hyperkinetic disorders | Eating disorders |
| 4-8% of children with hyperkinetic disorders are seen by specialist CAMHS core teams. Typically school nurses and GPs refer to community paediatricians. Community paediatrician teams will refer complex cases to specialist CAMHs. Currently there are insufficient links with this referral pathway and parenting classes and a lack of social skills training | Some initial support will be given at tier 1 and also from some tier 2 services such as counselling. 10-25% of children with eating disorders are seen by specialist CAMHS core teams. |
| Developmental disorders | Psychotic disorders |
| 5-15% of children with ASD seen by specialist CAMHs core teams Some children with ASD will see the specialist CAMHs learning disability team. It is not known what proportion of children are under the care of community paediatric teams. Educational psychology teams give educational support. Most services related to ASD will be accessed through diagnosis. | The Early Intervention in Psychosis team is an important service. Effective early intervention and prevention services leads to lower prevalence of severe mental illness and result in lower levels of distress to children and lower costs to the health and social services. |
| Self harm | |
| Young people who self harm will currently be seen across the wide range of services available with the most severe seeing specialist CAMHs. Those with self injury or poisoning which results in hospital attendance results in a specialist CAMHs review | |
A new Child and adolescent mental health service to meet local needs has been procured and began in April 2015. The new provider is the East London Foundation Trust. The Trust's core area encompasses City of London, Hackney, Newham and Tower Hamlets but it also delivers mental health services beyond east London in north east London, Hertfordshire and Essex, psychological therapies to Luton and Richmond, children and young people's speech and language therapy to Barnet, and specialist mother and baby psychiatric unit receives referrals from across the south east. A comprehensive review of service provision is therefore being undertaken.
References
(1) Central Bedfordshire child and adolescent mental health strategy 2014 – 2017
Last updated Friday, 22nd April 2016