Impact and Effectiveness
Health problems associated with being overweight or obese cost the NHS more than £5 billion every year (1)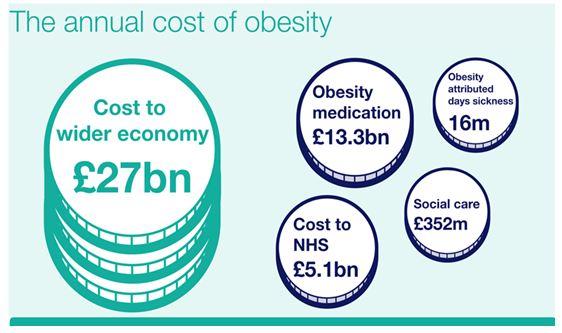 The annual cost of Obesity. Source: Public Health England – Why invest in Obesity2015
Material costs to upgrade equipment must also be added i.e: bigger beds to cope with larger size and weight, larger imaging scanners, stronger bigger wheelchairs and trollies, wider doorways, stronger hoists and crutches. The cost of more staff that are needed to care for obese patients and the costs of changes to aircraft seating, theatres, cinemas must be taken into consideration.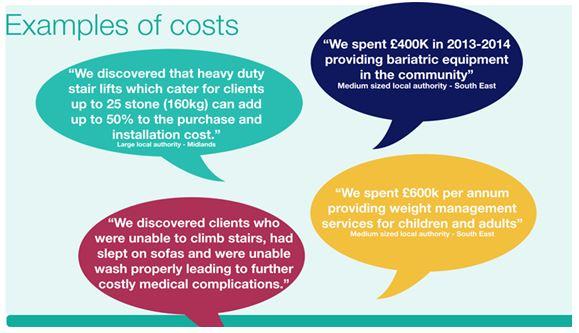 Examples of cost. Public Health England – Why invest in Obesity - 2015
The majority of long term conditions will involve the provision of social care. Some of the social care costs for obesity related conditions such as stroke, diabetes, hypertension etcetera are likely to consist of:
The provision of ongoing support including re-enablement
The provision of personal non-clinical care (washing, dressing, cleaning, meals etc.)
Developing a Personal Independence Plan (PIP – Disability living allowance)
The blue badge scheme (disability mobility badge)
Lost income due to lost working days due to illness and premature mortality
The lack of ability to provide meaningful contribution to local community
The carer becoming a recipient of care – care still required for person cared for plus themselves in addition
Disabled Facilities Grants (DFG – walk in showers, stair-lifts etc.)
Whilst excess weight and obesity are not in themselves considered a disability, the health conditions related to this could be the cause of physical disability i.e related heart disease, joint problems which impair movement and some types of cancer.
The combined costs to Local Government and the NHS in primary and secondary care provide a strong justification for the costs associated with prevention and intervention of childhood obesity (2).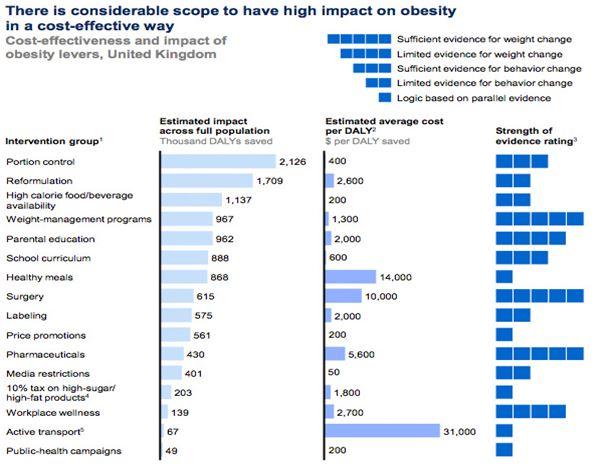 Cost associated with prevention and intervention of childhood obesity. Source: Mckinsey Report: Obesity costs UK – January 2015
A new 'Weight management economic assessment tool' that has been developed by Public Health England (May 2014) could support commissioning of the referral programme by calculating the economic costs of the intervention compared to the cost savings it may produce.
The Standard Evaluation Framework for weight management interventions enables Public Health to develop and evaluate complex interventions ensuring that an appropriate evidence base is used to justify its effectiveness and value for money. Where there is inadequate evidence to commission a service, or no service currently exists, services are developed and evaluated in order to ensure that action is being taken in the areas necessary whilst evidence is being collected (3).
References:
(1) Public Health England – Reducing obesity and improving diet Policy published March 2013.
(2) Local Government Association &Public Health England (2013). Social Care and Obesity: A discussion Paper. London.
(
3
) NICE (2006).
Obesity guidance on the prevention, identification, assessment and management of overweight and obesity in adults and children
. Department of Health.
Last updated Tuesday, 11th April 2017