Facts, figures and trends
Some women may already have a mental illness when they get pregnant, others worry about mental health problems they have had in the past. There is a fear of getting ill again during pregnancy or after childbirth. Women who stop medication when they get pregnant have a high risk of getting ill again, 7 out of every 10 women who stop antidepressants in early pregnancy become unwell again (1).
Management of mental health problems during pregnancy and the postnatal period differs from other times because of the nature of this life stage and the potential impact of any difficulties and treatments on the woman and baby. There are risks associated with taking psychotropic medication in pregnancy and during breastfeeding. But there are also risks of stopping medication taken for an existing mental health problem and an additional risk of postpartum psychosis (2).
Nationally the level of support for pregnant women with acute mental illness is variable.
Provision of support for women with chronic low level mental health problems is inconsistent and often the responsibility between primary care, mental health trusts and maternity services is confused (3). Below is a map showing the disparities of care within the UK. It illustrates current provision of specialist community perinatal mental health teams based on Royal College of Psychiatrists, College Centre of Quality Improvement.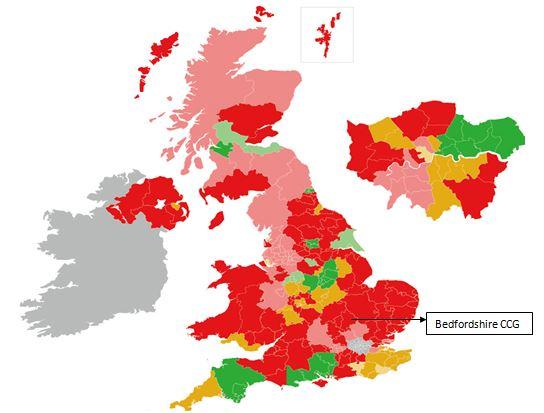 Certain groups of parents have been found to be at greater risk of mental health problems:
Mothers rather than fathers
Younger mothers
Lower socio-economic groups
Lone parents
Source: ChiMat
Many factors influence mental illness in pregnancy, but the main ones are:
Experience of historical mental illness
Currently on treatment
Recent stressful events in one's life
Adverse feelings towards the pregnancy
Pregnancy related symptoms are specific to the pregnancy and receiving appropriate perinatal mental health services rather than mainstream adult mental health services is a key message (4). For example:
traumatic childbirth can cause post traumatic stress disorder
changes in weight and body shape is difficult if there is an eating disorder
unwanted pregnancy
changing in roles (becoming a mother or father) as well as care of existing children
changes in relationship to partner
fear of a problem with the baby and/or pregnancy and/or childbirth
fear of support and being alone
If a woman has had mental health problems in the past they should be referred to a mental health service when they are pregnant if they ever:
had a mental illness such as schizophrenia, bipolar disorder, severe depression or schizoaffective disorder
receiving treatment from mental health services
had postpartum psychosis or severe postnatal depression
had severe anxiety disorder such as obsessive compulsive disorder
had an eating disorder such as anorexia or bulimia
Depression and anxiety are the most common mental health problems in pregnancy, with and estimated 10 to 15 out of every 100 pregnant women suffering (5). Table 1 highlights the estimated prevalence of mental health illnesses for each birth nationally. While as many as 80% of women become emotional or express 'baby-blues' within 3 and 10 days of delivery. This is short-lived and not a lasting issue. Post natal depression is the most common mental illness reported post-partum with estimates of up 15% of women affected.
| Condition | Estimated prevalence |
| --- | --- |
| Baby blues | 80% |
| Postnatal depression | 10 - 15% |
In addition to the pregnancy specific mental illnesses shown above, there are a number of mental health issues that can affect pregnant women and new mothers. Table 2 provides a more detailed insight to the issues surrounding pregnant women and highlighting specific perinatal consequences.
Illness
Description
Estimation
Table 2: Range of mental health issues for pregnant women. Source: NSPCC,Prevention in mind: All Babies Count: Spotlight on Perinatal Mental Health/MBRRACE-UK: Saving Babies Lives, Improving Mothers Care.

Post Traumatic Stress

(PTSD)

Can recur or worsen during pregnancy and or after childbirth if there has been childhood trauma. Experience of being pregnant triggers symptoms particularly for women who have experienced childhood abuse or sexual abuse who may experience complex feelings as a result of becoming a parent, and the physical care experienced in pregnancy

2-7% of all deliveries at 6 weeks post-partum

Perinatal Obsessive Compulsive Disorder

(OCD)
Can occur any time but onset or worsening of symptoms has been associated with pregnancy and childbirth. Women's obsessions and compulsions are more likely to focus on the baby
3% of new mothers
Adjustment disorders and distress
Occurs when a women is unable to adjust or cope with an event like pregnancy, birth or becoming a parent
150-300 per 1000 maternities
Maternal Suicide

Mental Illness is one of the leading causes of maternal deaths in the UK.

Nationally,

between 2009-2013, 101 women committed suicide during pregnancy or in the 6 months after delivery

Psychiatric disorders

schizophrenia
severe depression

Psychiatric disorder is also associated with maternal deaths from other causes.

Risk/benefit of psychotropic medication (including with known teratogenic risk)

Between 2006-2009, 67 deaths were recorded as being the result of, or associated with a psychiatric disorder

Severe mental illness/serious affective disorders

bipolar
severe depression

Occur during pregnancy particularly if medication has been stopped
Majority of acute onset serious perinatal disorders present as psychiatric emergency in the days and weeks following childbirth
Partners Mental Health
Paternal depression in the perinatal period has shown to affect couple relationships and the developing infant
25-50% of all first time fathers
Impact of maternal depression
Unborn baby
Depression, anxiety, Post Traumatic Stress Disorder (PTSD) and schizophrenia during pregnancy increase the risk of low birth weight as well as the risk of giving birth to a preterm baby (6).
If a mother is stressed, depressed or experiencing anxiety the stress hormone cortisol is elevated and may pass through the placenta and alter the development of the fetal brain. This exposure is thought to affect the child's developing stress response systems which will change how he or she behaves and responds to stimuli and stress when they are born (7).
On infant and child health at age 5 years
Maternal mental illness has important consequences for the impact on infant health and future behaviour and learning, with adverse effects on a child's brain development and long term outcomes. Maternal depression increases the risk of mental illness in children, who are five times more likely to have a mental health problem of their own, more than three times more likely to have an emotional problem that persists for at least three years and almost seven times more likely to have conduct problems (8). The effects of maternal mental illness are more severe if the illness is persistent rather than episodic.
Mortality to mother
Mental illness is one of the leading causes of maternal deaths. Between 2009 and 2013, 101 women were known to have committed suicide in the UK during pregnancy, or in the six months after delivery. The numbers of new mothers committing suicide have not fallen over the past decade. Psychiatric disorder is also associated with maternal deaths from other causes with an additional 67 deaths recorded in the same period as a result of or associated with a psychiatric disorder (9).
Women from all parts of society can be affected by mental illness. More than half of the women who committed suicide during pregnancy or shortly after birth between 2009 and 2013 were white, married, employed, living in comfortable circumstances and aged 30 years or older.
Recurrence of post-partum mental illness
Relapse or recurrence of previous post partum mental illness is well established and the risk is believed to be between 33% and 55%.
'Perinatal mental health problems are therefore a major public health concern. They have wide ranging impacts on both maternal and infant mental and physical health and make a significant contribution to both maternal and infant morbidity and mortality.'
Quote: Joint Commissioning Panel for Mental Health: Guidance for perinatal mental health services
Impact on Father
Paternal depression is estimated at around 4% during the first year after birth, peaking at between 3-6 months after birth. Maternal depression is the strongest predictor of paternal depression during the postpartum period. Between 24-50% of new fathers with depressed partners were depressed themselves.
Severe depression in fathers is associated with high levels of emotional and behavioural problems in their infant children, particularly boys.
Source: Central Bedfordshire Council. Health Needs Assessment 2014.
References
(2) NICE (2014) NICE Clinical Guideline 192: Antenatal and postnatal mental health: clinical management and service Guidance
(3) NHS Commissioning Board (2012) Commissioning Maternity Services: A Resource Pack to support Clinical Commissioning Groups
(4) Joint Commissioning Panel for Mental Health (2012) Guidance for commissioners of perinatal mental health services: Volume 2 Practical mental health commissioning
Last updated Tuesday, 13th June 2017