Current programmes and pathways
Pregnant women living in Central Bedfordshire can choose from six feeder hospitals to have their delivery. The two main hospitals are Bedford Hospital NHS Trust which delivers approx. 60% of maternities and Luton and Dunstable University Hospital which deliver approx. 20% of maternities in Bedfordshire. Both of these hospitals provide the Community Midwife Antenatal Care for all women in Bedfordshire depending on geographical residency.
| Smoking at time of delivery | 2011/12 | 1212/13 | 2013/14 |
| --- | --- | --- | --- |
| England | 13.2% | 12.7% | 12% |
| East of England | 13.2% | 12.4% | 11% |
| Bedfordshire | 14.1% | 13% | 12.6% |
| L&D Hospital | 24.6% | 21.9% | 19.4% |
| Bedford Hospital | 12% | 11.2% | 12% |
Source: Public Health Intelligence Unit
The table above shows the rates for Bedfordshire compared to the national and regional average. Generally the trend for smoking at time of delivery is improving across all areas with local CCG rates showing no significant differences to the England average. However, Luton and Dunstable Hospital is statistically different when explored independently from Bedfordshire figures.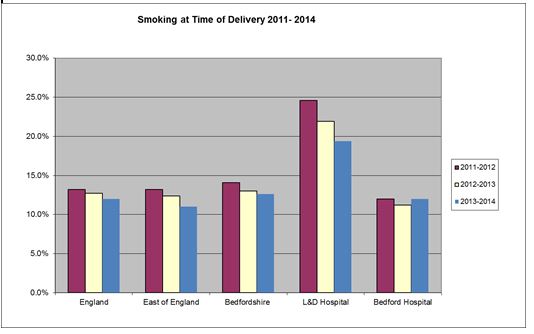 Figure 1: Smoking at the time of delivery Source: Source: Public Health Intelligence Unit
The above figure above highlights the number of Bedfordshire women who are smoking at time of delivery. It clearly shows that women who have their delivery at the Luton and Dunstable Hospital are more likely to smoke. It is important to note that the high figure for Luton & Dunstable Hospital can be related to fewer numbers from Central Bedfordshire choosing this hospital. This number also dovetails deliveries from a higher level of deprivation that is geographically aligned to Central Bedfordshire wards.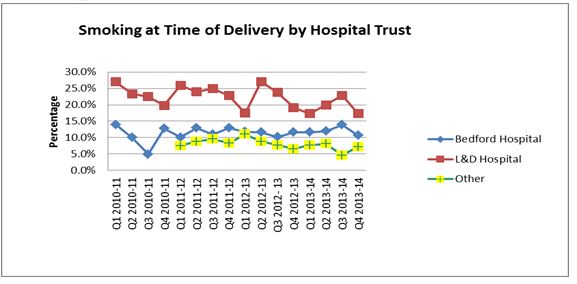 Figure 2: Smoking at time of delivery by Hospital Trust Source: Public Health Intelligence Unit
Figure 2 shows the trends of Bedfordshire feeder hospitals smoking at time of delivery rates from 2010 to 2014.
Social gradients
Central Bedfordshire Council produced a report with The Customer and Community Insight Team on deprivation in Central Bedfordshire, based on the the national Indices of Multiple Deprivation (2010). It states a total of nine Lower Super Output Areas (LSOA'S) sit within this local authority, with three falling within the top 10%-20% most deprived.
These are:
Manshead (LSOA code 594) in Dunstable
Parkside (602) in Houghton Regis
Houghton Hall (618) in Houghton Regis
The top 20%-30% most deprived are:
Parkside (601) in Houghton Regis
Leighton Buzzard North (609)
Tithe Farm (619) in Houghton Regis
Northfields (596) in Dunstable
Sandy (433)
Flitwick (400)
The Marmot Review clearly demonstrates that social gradient inequalities influence and are present prenatally and increase through early childhood. It is these inequalities that have significant influence on foetal and brain development with permanent disparities in health outcomes. Evidence suggests that maternal health is related to socioeconomic status (1) this in turn correlates to the high levels of smoking at the Luton and Dunstable Hospital for Central Bedfordshire.
'Many women stop smoking as soon as they discover they are pregnant, for others their understanding of the risk posed to their unborn baby may not be sufficient to motivate them to quit smoking, or they may face significant barriers that prevent them from stopping.' (ASH 2013)
Complex needs in maternal smoking
Occupation
Socio- demographic factors associated with smoking in pregnancy mirrors many factors of those classed as a generic smoker. These include social groups with unskilled occupation groups showing that pregnant women are five times more likely to smoke than professional occupational groups (ASH, 2013). Adult smoking prevalence from the Integrated House Hold Survey (IHS) suggests that general smoking prevalence in Central Bedfordshire is 15% (2013), this is lower than the regional and national average prevalence.
However the prevalence for those occupations commonly associated with routine and manual occupations the prevalence rises to 22.4% locally. Table 3 shows a profile of smoking prevalence set at local, national and regional with smoking prevalence at local level below the average of 15%. However when comparing the general smoking prevalence to those in routine and manual occupations and those smoking at time of delivery the averages worsen locally.
Indicator
Period
Central Bedfordshire
Region
England
CBC vs England
Number
%
%
%
Smoking Prevalence (IHS)
2013
-
15%
17.5%
18.4%
Smoking prevalence - routine & manual
2013
-
22.4%
28.4%
28.6%
Smoking status at time of delivery
2013/14
369
12.6%
10.8%
12%
Source: Public Health England: Local Tobacco Control Profiles
Teenage pregnancy
Rates of smoking in pregnancy are higher among teenagers who are six times more likely to smoke before or during pregnancy as mothers aged 35 or over (1)
Young women are less likely to quit smoking during pregnancy and infants born to smokers are more likely to smoke themselves (2)
Percentage of women smoking
Maternal age
Before or during pregnancy
Throughout pregnancy
<20
68
45
21 - 24
49
28
25 - 29
29
14
30 - 34
23
9
35+
20
9
All
32
17
Source: Passive Smoking and Children. Royal College of Physicians 2010
Ethnic variation
There is a wide ethnic variation in smoking in pregnancy with low rates reported in some population groups especially south Asian (3) Anecdotal evidence discussions with local professionals indicate that there are a growing number of women from Eastern countries reported to be smoking whilst pregnant, these include Polish and Latvian. We do not have local data for specific ethnicity for Eastern countries due to the national standard set not requesting this.
Overview
Pregnant women with complex social factors like poverty, under 20, domestic abuse and substance misuse are more likely not to access healthcare services and will usually require tailored support (4)
Secondhand smoke
It is estimated that nationally 200,000 children and young people start smoking and many adult smokers state they started smoking daily before they turned 18 (5)
It is known that young people are much more likely to smoke if they live with smokers exerting an intergenerational effect. It is therefore key to support adult smokers to quit in encouraging young people not to start smoking as people can still be exposed to smoke at home or in cars.
Exposure to secondhand smoke is harmful to health, especially the unborn and children. Evidence in the Scientific Committee on Tobacco and Health report found that passive smoking is a cause of respiratory disease, cot death, middle ear infections and asthma in children, in pregnancy secondhand smoke can reduce foetal growth and increase the risk of a preterm baby (6) Infants and children are particularly vulnerable to the health effects of secondhand smoke with most of their exposure coming from within the home.
Prenatal exposure to tobacco smoke has significant adverse impacts on the health of the foetus including low birth weight, premature birth, spontaneous abortion and still birth. Source: Ash
Babies born to women who smoke weigh around 200 grams less than non-smokers. There is a small adverse effect on the baby's weight of non-smoking mothers who themselves have been exposed to secondhand smoke during their pregnancy (7) Smoking also impacts on IVF and fertility rates. It has been found that exposure to secondhand smoke is as damaging as active smoking in terms of successful pregnancy outcomes for people using IVF (8)
Health effects of exposure to secondhand smoke in pregnant women
Research published in the journal Pediatrics in 2011 combined data from 19 studies investigating the impact of exposure to secondhand smoke on pregnant women. When the data from all nineteen studies were combined and analysed together, they found that women exposed to secondhand smoke were 23% more likely to have a stillbirth and 13% more likely to give birth to a child with congenital heart defects (9)
A 2010 review of studies examining the impact of secondhand smoke exposure on non-smoking pregnant women found that there was a small risk of them having lighter weight babies and of the babies having congenital abnormalities. It concluded that for most women the risks were small but that for active smokers or those in poor health the added risk of exposure to secondhand may be more significant (10)
It is estimated that 40% of children in England live in a home where at least one person regularly smokes; table 4 demonstrates the variation of smoking levels populated by each GP Practice in Central Bedfordshire. Although no comparable data is available, we know that within Central Bedfordshire the average is 18.51% (2013-2014) of new born babies are living in a home with at least one smoker. Table 4 shows the highest is Houghton Regis Medical Centre which was 35.24% of new born babies are living in a home with a smoker, this equates to 1 in 3 babies.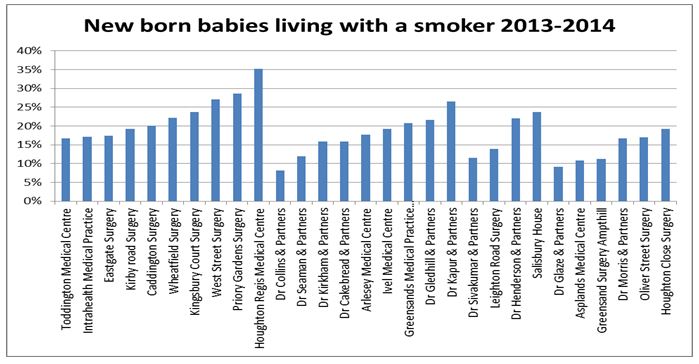 Figure 3: New born babies living with a smoker 2013 - 14 Source SEPT Public Health Dashboard 2014
1

st

Highest
Houghton Regis Medical Centre in Houghton Regis
35.2%
2

nd

Highest
Priory Gardens Surgery in Dunstable
28.5%
3

rd

Highest
West Street Surgery in Dunstable
27.7%
4

th

Highest
Dr Kapur and Partners in Sandy
26.4%
This data is collected from the Health Visitor's first postnatal appointment with every New Birth Visit (NBV) in Central Bedfordshire.
Exploring the rates of smoking in the home with a new born baby it shows an increase year on year with Central Bedfordshire:
14.04% in 2010-2011
16.43% in 2011-2012
18.78% in 2012-2013
A focus group is to be organised to target areas of high rates of secondhand smoke. In collaboration with Health Visitors, School Nurses and children centres.
Figure 5 provides a percentage cross section of the data for 2013-2014 of smoking households with a new born baby. It confirms social inequalities will impact the health and social outcomes from the earliest of years based on where you live.
Area

Q1

%

Q2

%

Q3

%

Q4

%

End of Year
Central Bedfordshire
18.6
19.6
19.2
16.5
18.5
20% Most Deprived Central Bedfordshire
26.7
21.1
26.3
26.5
25.1
20% Least Deprived Central Bedfordshire
13.1
17
15.7
13.9
14.8
80% Least Deprived Central Bedfordshire
16.9
19.3
17.5
13.7
16.9
Source: SEPT Public Health Dashboard 2014
References
Last updated Friday, 22nd April 2016