Corporate / organisational indicators and performance measures
In 2011 the Healthy Lives, Healthy People: A Tobacco Control Plan for England published national ambitions, this included a reduction in rates of smoking through pregnancy from 14% to 11% or less by 2015. This is measured at time of giving birth. Locally, Bedfordshire Clinical Commissioning Group (BCCG) agreed contracts with maternity hospitals to reach a target of 13% or less.
Statistics on women's smoking status at time of delivery is submitted to the Health and Social Care Information Centre (hscic) and is published quarterly and displays local data based on the Clinical Commissioning Group areas i.e. NHS Bedfordshire. Data is not available at Local Authority level but by hospital trust and broken down locally by the Public Health Intelligence department.
Below is a map showing the wide polarisation of smoking at time of delivery across England. This highlights the disparities of the maternal outcomes between north and south England. Bedfordshire is the light blue shading confirming local value between 8.9% -12.6%.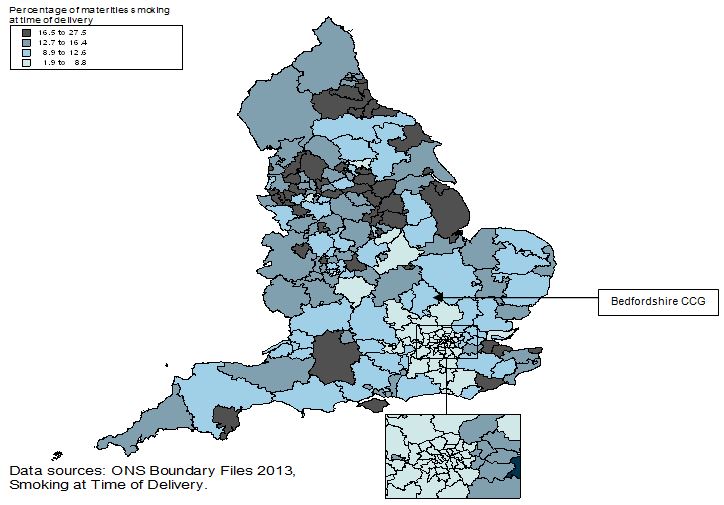 Women known to be smoking at time of delivery by Clinical Commissioning Group in England Source: ONS
Smoking in pregnancy data is monitored locally by collecting the number of women who smoke at time of delivery (SATOD). This is defined as follows:
Number of maternities is defined as a number of pregnant women who give birth to one or more live or stillborn babies at least 24 weeks gestation. The count is defined as pregnant women not the number of babies/deliveries.
A woman known to be a smoker at time of delivery is defined as a pregnant woman who reported smoking at time of delivery.
The calculation of percentage of mothers known to be smokers at time of delivery is defined as:
Number of mothers known to be smoking at time of delivery / number of maternities *100
Last updated Friday, 22nd April 2016